Pawleys Island is a historic seaside village and one of South Carolina's best-kept secrets. This sweet little barrier island in South Carolina is one mile wide and four miles long. Lucky for us, it packs a surprising punch of pristine sandy shores and charming coastal character to explore and enjoy.
There are plenty of things to do in Pawleys Island and this lovely Lowcountry oasis. Discover local wildlife and terrains, get out on the water for an active or relaxing adventure, learn about the rich history of the area, and immerse yourself in the cultural attractions.
Pawleys is the perfect paradise to escape every day in exchange for secluded serenity with spectacular scenery with a side of sea breeze. It was one of the first vacation spots in the state, yet it still remains hidden away from surrounding shores inundated with tourism and development, unlike nearby Myrtle Beach.
Chow down on the freshest seafood around and soak up the warm Carolina sunshine. The shabby chic atmosphere will win your heart as you dive into the laid back and slow-paced atmosphere for a slice of island life relaxation. Below are all the best things to do in Pawleys Island.
---
Where is Pawleys Island?
Pawleys Island is a town in Georgetown County just south of Myrtle Beach and Murrells Inlet. It's on the barrier island of the same name and is known for its beaches and sand dunes and for being one of the best vacation spots in South Carolina.
From Myrtle Beach, Pawleys Island is about 45 minute drive away via US-17 BUS S and Ocean Hwy. From Charleston, Pawleys Island is a 1.5-hour drive away.
The island is slightly over three miles long and a quarter mile wide.
---
The Best Things To Do In Pawleys Island
---
Huntington Beach State Park
Nearby, you will find the stunning natural wonderland of Huntington Beach State Park. An oasis of coastal wetlands and wildlife, there is much to explore here. Choose one of several trails to traverse, and you will find beauty to behold.
Sandpiper Pond Nature Trail features an observation deck on the water to spot many species of birds, such as egrets or herons. Kerrigan Nature Trail boasts a charming boardwalk right over a lovely freshwater lagoon. The sandy shores are both vast and pristine, so you can savor a beach experience that is even more secluded and wild with plenty of spots for swimming.
There are also many opportunities for rustic camping and fishing available at this state park. It's home to some of the best birdwatching on the East Coast and has a population of loggerhead sea turtles along with other rare native flora and fauna to spot. Atalaya Castle is an amazing architectural achievement well worth visiting.
Built in a Moorish style in the 1930s, this lavish abode once belonged to the Huntingtons. You can take a self-guided tour of the grand estate to take in the impressive opulent furnishings which have been preserved.
---
Check Out the Art Galleries
There are two main art galleries on the island, attracting appreciators from all over. Island Art Gallery features fine artworks from nationally known and local artists. Peruse the collection and feel free to purchase if you happen to fall in love with a certain piece.
It aims to provide traditional and contemporary art that feels accessible for all. The gallery also hosts educational art classes and open studio time to encourage community engagement. It is artist-owned as well.
The Cheryl Newby Gallery offers a wide range of crafted creations such as sculptures, antique maps, and pottery. They represent a wide range of artists working with different mediums, both locally and nationally. They are known for carrying impressive impressionist works. The staff is very knowledgeable, and it's a great way to learn more about the coastal artistry of the area and around the country.
---
Stroll Through Brookgreen Gardens
Both a spectacular sculpture garden and stunning nature preserve, the Brookgreen Gardens are a paradise in Pawleys. The grounds are over 9,000 acres with something always in bloom year-round. Stroll underneath 250-year-old live oak trees, and stop into the Palmetto garden which celebrates the spirit of the state.
Among the manicured blissful blossoms, Brookgreen is also home to the largest and most comprehensive collection of American sculpture pieces in the country. There are 2,000 works waiting to be discovered. Created by 430 different artists, they're all fully integrated into the manicured majestic surroundings.
There are miles of paths to meander here, complete with ornate displays around every corner. It also serves as a wildlife sanctuary as it's home to protected swamplands, an aviary, and a magical butterfly house.
The historical Oaks Plantation is on site. Visit via pontoon boat to explore this haven of heritage with an old rice mill, Civil War fort, family cemetery, and preserved living quarters. This oasis is one of the most tranquil things to do in Pawleys Island.
---
Hire a Fishing Charter
Pawleys Island is a dream destination for anglers of any skill level. With both inland and inshore options, a charter is a great way to explore the landscape of the ocean, salt marsh, and river fishing available. While the catches are crazy all year-round, the season will dictate what species you can hook. In the colder seasons, be ready to reel in Red Fish, Speckled Trout, and Blackdrum. In the warmer months, you will find more Sheepshead and Flounder.
There are plenty of companies around that you can book through. Options can range from half day or full day, private or group cruises, guided or self-guided, and offshore or deep-sea fishing.
A benefit of booking is that all licensing will be taken care of for you. Carolina Guide Service and Inshore Extreme are some of the top-rated operators in the area. If you want to throw your line in the mix but don't want to book a charter, you can always cast off from one of the two marsh bridges or in the surf.
---
Take a boat tour
You don't have to hire a fishing charter to get out on the water, Cap'n Rod's Lowcountry Tours offers a fun Lighthouse Shell Island Tour that will give you a closer look at the barrier island, and navigate you around the waterwaters on a pontoon boat. On this tour, you'll also come across South Carolina's oldest lighthouse -you might even hear an old legend or two.
Keep your eyes peeled for Bottlenose Dolphins, Alligators, Ospreys, Brown Pelicans, Bald Eagles, and maybe even a sea turtle!
---
Stroll Through Downtown Georgetown
Georgetown is just a hop, skip, and jump away from Pawleys Island and is a great place to head if you're looking to do a bit more shopping, to try new restaurants, or get some different vibes.
In Georgetown, you can enjoy the Harborwalk on Front Street, catch a show at the iconic Strand Theatre, or learn about the area with Swamp Fox Tours!
---
Purr and Pour Cat Cafe
Also in Georgetown is Purr & Pour Cat Café, and if you are a cat lover you have to make a stop here. This cafe has revolutionized the cat adoption process in Georgetown by fostering shelter cats in a cage-free, home-like space through its cafe.
Head here and enjoy delicious coffee, free WiFi, and a comfortable seating area surrounded by furry meow boxes.
---
Hopsewee Plantation
Hopsewee Plantation is a historic site built in 1740 by Thomas Lynch Sr., a wealthy rice planter, delegate to the Continental Congress, and signer of the Declaration of Independence.
The plantation is considered to be one of the best examples of colonial architecture in South Carolina. The main house is a two-story Georgian-style brick mansion that features a symmetrical design and a central pedimented portico and is open for daily tours, it also and serves as a venue for special events such as weddings and corporate functions.
---
Enjoy the Beaches
Pawleys is home to the largest free public beach in the county, and one of the best beaches in South Carolina. In total, there are nine public beach access points around Pawleys. The southern tip of Pawleys Island Beach is often busier as it's the best parking along the shoreline.
At low tide, this is the hotspot to come for combing the sand in search of the perfect shell. It's an undisturbed oasis free from the commercialization which plagues other beaches along this South Carolina coast. Soak up the sun and take a dip in the salty sea on this idyllic stretch of tranquil coastline.
Litchfield Beach lies across the inlet. It's just as clean, quiet, and beautiful. It's home to the seaside communities of Litchfield-By-The-Sea and North Litchfield. The ideal hideaway for some restorative rest and relaxation with an ocean backdrop. The eight-mile stretch boasts soft sands and calm waters. The sunsets here have been known to paint the sky with breathtaking colors. Enjoy all the scenic serenity Litchfield has to offer.
---
Go Golfing
Pawleys Island boasts 10 top-notch courses for a round of 18 holes. There are links for every like and level with some of the best greens in the state. Many were built over former rice plantations adding some extra slopes to the course for a bit of a challenge. Most courses feature sweeping views of the coastline or stunning live oaks dotting the landscape as you play through.
Caledonia Golf and Fish Club is beloved by golfers from around the globe. The course is par-70, and each hole has its own special scenic highlight. Azalea bushes abound and sweet streams meander their way through the links to create a unique and delightful day. The architect was Mike Stantz who carefully sculpted each fairway like an artist. It has since rapidly gained its reputation as one of the favorite courses in the country.
Heritage Plantation Club features marshes, freshwater lakes, and 600 acres of giant magnolias. It's part of the Legends Resort which is home to several courses. If you're a true fan of the fairway, you can book a stay with them and play each one. Heritage is often touted as the course with the most charm here. These links are a par 71, and they were designed by the esteemed Dan Maples.
---
Try Surfing!
Pawleys is blessed with an abundance of sparkling waters, both salty and fresh, to navigate by any means available. Surf the Earth is the best local spot to provide all you need in order to ride the waves.
Rent a board or take a lesson – either way, you will be hanging ten in no time. With good conditions, the swells can be up to six feet tall. Aside from near the pier, the rest of the sea is wide open with nothing standing in the way of you catching that perfect barrel.
You can also head inland to explore the tidelands by kayak or paddle board. This includes Waccamaw River, Cypress-Tupelo Swamp Preserves, Sandy Island Wildlife Preserve, and the salt marshes of Huntington Beach State Park.
There are guided tours which teach you about the ecology of the area as you adventure, or you can rent one to take your own journey and get up close and personal with the natural wonders of these estuaries. Many companies also offer scuba diving, snorkeling, jet skiing, water skiing, parasailing, and paragliding.
---
Enjoy an Eco Tour
Taking an eco tour of this undeveloped coast is sure to provide wonder and awe for the landscape and its wildlife. Have experts who know the native flora and fauna inside and out take you to the best places possible to view them.
You can see alligators, turtles, otters, birds, and, of course, dolphins depending on the area you decide to discover. Tours are usually the most successful in the morning, so prepare yourself for an early rise that's so worth it. This is one of the most exciting things to do in Pawleys Island.
Blue Wave Adventures is the premier operator for Dolphin viewings on Pawleys Island. They run out of Crazy Sisters Marina in Murrells Inlet. Their vessels are custom built for exactly this purpose, to safely bring you as close as possible to these highly intelligent and playful creatures of the sea. You will be able to freely view 360 degrees around you for optimal spotting. If you're lucky, you may also see jellyfish, sharks, and rays.
---
Shop The Hammock Shops Village
Tucked away at the heart of Pawleys lies Hammock Shops Village. A quaint array of storefronts featuring locally made artisan treasures, handcrafted collectibles and jewelry, gourmet goods, homemade candies, books and toys, coastal inspired trinkets and gifts, as well as daily wine tasting and sweetgrass basket and hammock weaving demonstrations.
It all began in 1889 when Captain Joshua Ward made the most sturdy and comfortable hammock many had ever seen. They became very popular and by 1938 the Original Hammock Shop on Pawleys Island was born.
To this day, it's what most visitors remember the island for, and this charming little village celebrates the legendary lowcountry heritage. As the universal symbol of leisurely beach life, hammocks perfectly represent the spirit of Pawleys. You will find a few eateries around among the 25 specialty shops, such as Bisquit.
Stop in for creative comfort cuisine in a cozy space. Chock full of timeless Southern charm, every shop is locally owned and offers unique items you won't find anywhere else.
---
Stroll the Historic District
The historic district of Pawleys Island is a unique little enclave of preserved architecture that's a delight to discover. This small South Carolina town is comprised of around 12 impressive homes which were built as far back as the late 1700s.
The P.C.J. Weston Home (Pelican Inn) and the Joseph Blyth Allston House (Pawley House) are especially exciting to view. The streets are perfectly quiet for a stroll around to admire the abodes, and I consider this stroll to be one of the most romantic things to do in South Carolina.
Small signs posted will fill you in on some of the historical significance of the buildings. They feature high brick foundations to accommodate the climate of the island as well as large porches so often seen in the South. The styles are a variation on West Indian architecture, quite unique for the area.
They are not mansions as you may expect but rather retreats designed to house large families on summer getaways.
---
Enjoy the Best Pawleys Island Restaurants
Pawleys is home to a plethora of enticing eateries. Cafe Piccolo serves up creative Italian cuisine using the freshest local ingredients. As you may imagine, this allows for a lot of seafood specials, such as seared scallops or shrimp scampi. They create as many ingredients in-house as possible and offer an extensive wine list to pair with your pasta.
Chive Blossom Cafe is a casual dining experience with an eclectic, quirky menu beloved by locals. Every starter is delectable from the parmesan fried oysters to the shrimp stuffed Medjool dates. They plate up short rib ravioli, Greek-style lamb tacos, and crab crepes just to name a few stand-out dishes. The atmosphere is unassuming and elegantly folksy at the same time.
Eggs Up Grill is the perfect down-home breakfast joint offering all your Lowcountry diner favorites. Frank and Frank's Outback Steakhouse is an institution in the area that's not to be missed. It's a fine-dining staple serving up Southern fares, wood-fired pizzas, and the juiciest cuts of every meat imaginable. Be sure not to skip the deep-fried deviled eggs or lowcountry spring rolls before filling up on filets.
---
Enjoy a Food Tour
Forget just one meal at a restaurant – hop on a food tour and meet other travelers over some delicious Southern offerings. Offering food tours all around the area, you can enjoy either a Georgetown, Pawleys Island, or Murrells Inlet culinary tour with Carolina Food Tours!
---
The Best Things to do in Pawleys Island Map
---
Best Places to Stay on Pawleys Island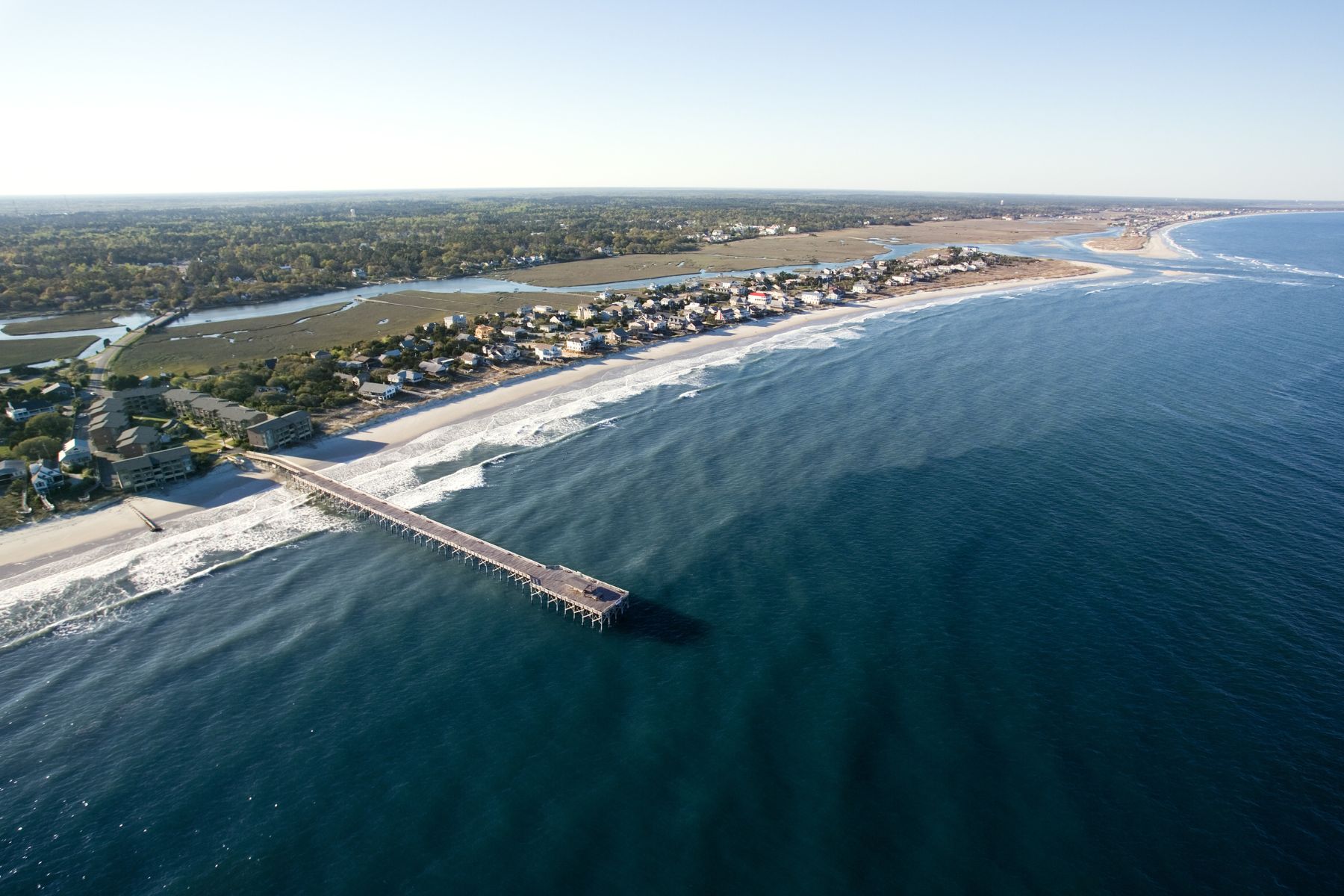 There aren't many hotels on Pawleys Island, and booking a VRBO for a group for your trip to Pawleys Island is best. Here are our recommended options:
---
When is the Best Time to Visit Pawleys Island?
The best time, and also the busiest time, to visit Pawleys Island is during the summer season. Between Memorial Day and Labor Day, you can expect it to be pretty busy on the South Carolina coast. It's best to book your accommodation well in advance during this time.
Pawleys Island during the spring and fall will be quieter, with more locals around and less tourism. Thankfully, a Carolina spring and fall have fantastic temperatures and sunny weather. I prefer to be on the coast during these times as the temperatures and humidity aren't so high.