There are many stunning South Carolina Islands to visit year round. South Carolina's islands are known for their beautiful beaches, which are perfect for swimming, sunbathing, and other water sports, enjoyable for the entire family! In addition to natural beauty many South Carolina islands offer fun outdoor activities from golfing and tennis to biking and hiking.
With charming small Southern towns, historic mansions, and delicious seafood, you can't go wrong with a coastal visit to South Carolina.
No matter which island you choose, you will find plenty of pristine beaches, outdoor activities, and Southern charm in South Carolina.
---
The Most Beautiful South Carolina Islands
---
1. Folly Island
One of the most well known South Carolina islands is Folly Island near Charleston! Folly Island has an intriguing Civil War history, but it's also a place where beachgoers head to when they want to enjoy sand, sun, and warm waters without the crowds.
This picturesque barrier island is home to the town of Folly Beach where you'll find Folly Beach County Park and its beach access points, picnic areas, bicycle rentals, and beach chairs and umbrellas.
As you explore the island, you may even spot some turtles, dolphins, bald eagles, and many other species of birds.
---
2. Pinckney Island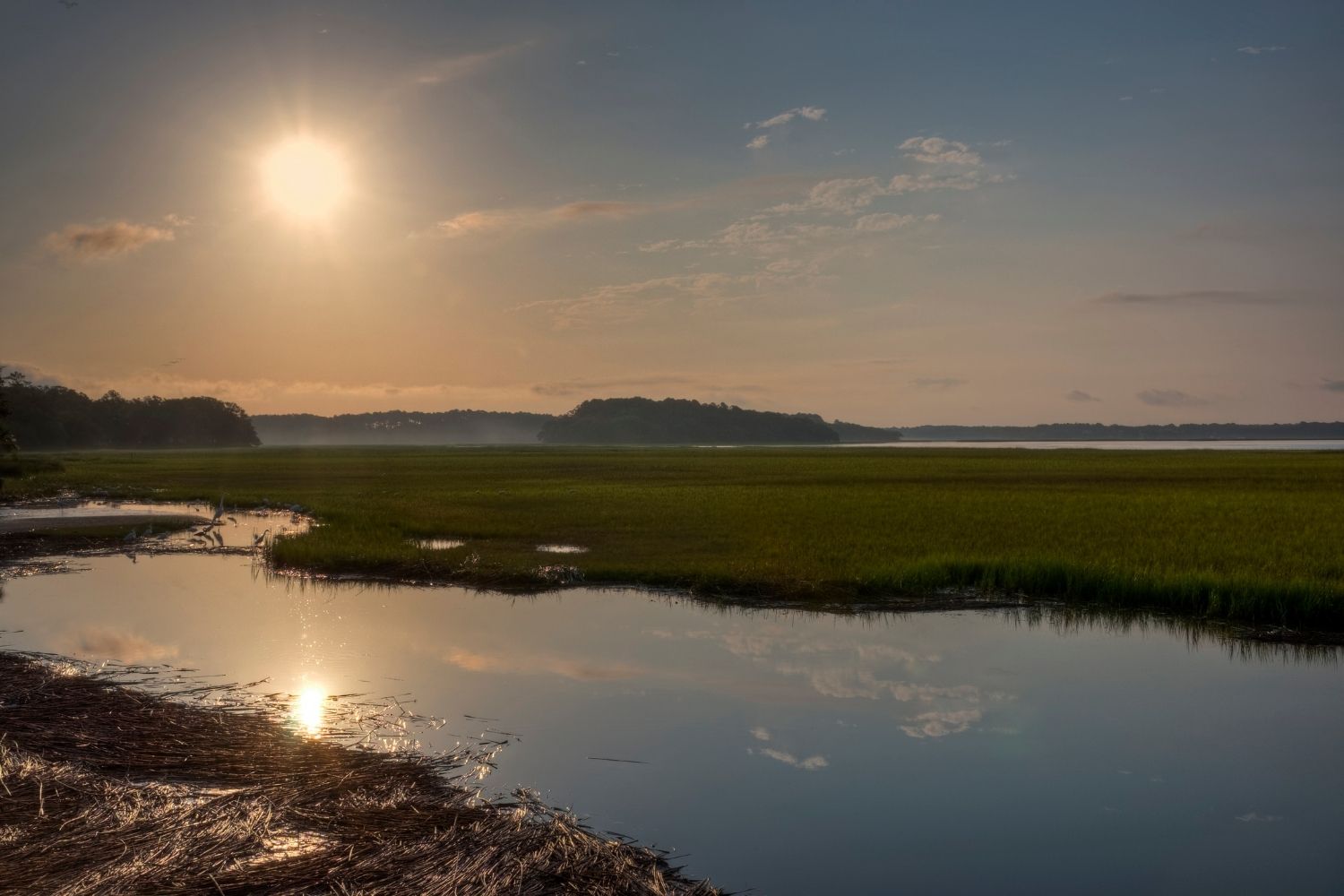 Much of Pinckney Island is made up of the Pinckney Island National Wildlife Refuge. This refuge serves to protect delicate ecosystems and the wildlife that thrives there. As you explore the area, you'll see salt marshes, tidal creeks, brushland, fields, forests, and freshwater ponds.
Birdwatching is very popular on the island, but there are many other exciting outdoor activities to pursue including cycling, and hiking on the ten miles of nature trails.
---
3. Hunting Island
When you visit Hunting Island, which is a remote 5,000-acre barrier island in the South Carolina Low Country region near Beaufort, you'll get the best of what nature has to offer.
A beach that is said to be one of the best in the United States and a state park with undeveloped lands featuring various ecosystems and bird species. The lighthouse which dates back to the 1800s is another popular attraction on Hunting Island.
---
4. Hilton Head Island
It may only be a small island, but Hilton Head Island is said by many to be one of the best vacation destinations in North America. It's certainly one of those South Carolina islands most people in the US have heard of!
Whether you're seeking a luxurious getaway, a day at the beach, or a day of outdoor adventure, you'll find it here. Embark on a whale-watching tour, book a tee time at one of the world-class golf courses, go biking or hiking on the trails and kayak the clear waters.
Some of the top attractions on Hilton Head Island are the Coastal Discovery Museum, The Pinckney Island National refuge, and the picturesque Harbor Town Lighthouse.
---
5. Spring Island
With thick forest areas, picturesque residential areas, upscale waterfront properties, and two nature preserves, you get a wide variety of scenery when you visit the 3,000-acre Spring Island.
As you explore this unique place, you'll also find great restaurants, several golf courses, about 300 hiking trails, stunning coastal views, and hundreds of plant species to observe.
---
6. Callawassie Island
Callawassie Island is one of many barrier sea islands in South Carolina, but it's special because it has an exclusive feel to it.
This 880-acre private island is open to the public via a bridge and during your visit, you'll enjoy access to an incredible golf course and a serene nature area consisting of tidal creeks, salt marshes, lagoons, and stunning coastline.
---
7. Morgan Island
Another one of the South Carolina Sea Islands group is Morgan Island. The best thing about this barrier island is no one lives there so it's quite possible to have it almost all to yourself! Well, that is if you don't count the 3,000 Rhesus monkeys that roam freely around the area.
These monkeys were being used for testing and biomedical purposes and have been there since the late 1970s. As you explore the island, you'll also see a variety of ecosystems including marshlands, uplands and maritime forest.
---
8. Seabrook Island
If you're seeking luxury, seclusion, beauty, and excitement all in one place, Seabrook Island is the perfect place to head to in South Carolina! We always recommend this destination to anyone looking for a romantic weekend away in South Carolina.
This pretty barrier island is widely known as a top bird watching destination but it's also known for its prized golf courses and secluded beaches that rarely get crowded. Book a tee time for the morning and relax in the sand, sun, and warm waters until sunset.
---
9. Harbor Island
It's tiny, it's beautiful, and it's exclusive, but not so exclusive that you can't venture over to Harbor Island for the day and check out the sights!
This barrier island and resort area, which is one of the Carolina Sea Islands, was once a place used only for hunting up to the 1930s, but has since become a top vacation destination for people seeking seclusion, beauty, and nature.
As you explore the island, you'll see giant sand dunes lining several miles of sandy beaches and a number of bird species.
---
10. Edisto Island
In the last 100 years, Edisto Island has grown to become one of the state's top tourist destinations, with the Wyndham Ocean Ridge Resort as the centerpiece of it all.
Edisto Beach is one of the best beaches in South Carolina to visit. This sandy stretch of coastline is a popular place for swimming, beachcombing, and just relaxing in the sun.
The Edisto Island State Park is another popular attraction on the island and this is where you can camp for the night if staying in a resort environment is not your thing.
---
11. Goat Island
As one of the smallest South Carolina islands, Goat Island, which is only accessible by boat with a guided tour, is a true island escape! As the name suggests, there's a place where you can watch goats from a scenic boardwalk and as you explore the island, you'll see various ecosystems, including marshlands, and enjoy spectacular views.
It's also a fantastic spot to enjoy a colorful sunset so be sure to try and book a tour that sticks around until the sun goes down!
---
12. Lady's Island
It's mostly residential now, but Lady's Island is still worth a visit the next time you are in Coastal South Carolina. Your first taste of the area's natural beauty is during the crossing over one of the two bridges that connect the island to the mainland.
During this crossing, you'll get to witness spectacular views of the whole island. On the island, you'll find a waterfront with boat ramps and nice places to relax and enjoy the surroundings which include farms and forests.
---
13. Dewees Island
Yes, Dewees Island is a private island but anyone can go there for the day to explore its natural delights! You just need to hop on a ferry or find someone with a private boat willing to take you there. This small barrier island, which is only minutes away from Charleston, has a wildlife preserve where you can view turtles, deer, raccoons and many species of birds.
The most unique thing about this island is how hard the local people work to keep it as natural as possible. The roads aren't paved here and even the homes are built in a way that they blend in with the natural surroundings.
---
14. Morris Island
If you're looking for a place to go for the day where there aren't a lot of people, that's scenic and is fun to explore, Morris Island is the perfect spot for you! You can only reach this island by boat so you know it's going to feel like a remote and deserted island in the middle of nowhere. But wait…this island is situated right in Charleston Harbor!
With a history steeped in Civil War lore, you'll hear some fascinating stories. You'll also visit the two main attractions on the island which happen to be two picturesque lighthouses.
---
15. Bear Island
It may only be a short drive away from South Carolina's largest city of Charleston, but Bear Island feels like a world away from everyone and everything! This is where nature lovers go to get away from the noise and crowds and to escape into a pristine wilderness area where they can enjoy a range of outdoor pursuits.
Hiking, biking, fishing and swimming are top activities, but if you're a birdwatcher, then you'll love Bear Island because more than 50 species of birds make their home here.
---
16. Port Royal Island
Located in the state's Lowcountry region, Port Royal Island is a nice combination of laid-back, rural countryside and bustling commercial center.
The main town on the island, Port Royal, is where you'll find ample opportunities to participate in a range of exciting activities including boating, hiking, and fishing. It's the biggest town on the island but really, it isn't all that big.
However, it is a quaint, historic little place with amazing seafood restaurants, well-maintained streets and properties, stately mansions and giant oaks. If you're wondering about beaches, there are some of them there too and they are sandy and beautiful! Did I mention this is another one of South Carolina's top birdwatching spots?
---
17. Capers Island
Untouched, natural, beautiful, and a perfect vacation destination describes Capers Island to a tee. The city of Charleston is only 15 miles away but you wouldn't think it! It's so quiet and laid-back here and when you combine this with the fact that you can only access the island by boat, you have yourself a remote slice of paradise.
As you explore this three-mile-long island, you'll have plenty of chances to spot many bird species and other wild creatures such as deer, raccoons, and turtles.
Beachcombers love checking out the beautiful beaches, especially the one known as the Boneyard. It's not actual bones that line this unique stretch of coast; it's just tree stumps that have been bleached by the sun but it's a great place for photo ops nonetheless!
---
18. Saint Helena Island
Saint Helena Island is different from many of the other islands around South Carolina because it's an inland island. Located near Beaufort, it's fairly small with a population of about 8,500 people so it's hardly remote but it is a nice place to spend the day exploring the beautiful island and immersing in its unique culture.
Outside the main residential areas, there are some picturesque rural landscapes where you can escape the commotion and enjoy incredible views. Make sure to spend some time in Frogmore where you'll find a variety of art galleries, retail shops, and eateries serving traditional local fare.
---
19. Kiawah Island
While much of Kiawah Island is gated and private, anyone can visit many of the attractions on the island. This barrier island which is about 20 miles from Charleston, makes for a perfect day trip from the city.
While there, you can enjoy 10 miles of beautiful, sandy beaches and 30 miles of hiking trails that are also suitable for cycling. The best way to see the amazing views of the area is from the Marsh Island Lookout Tower where you'll enjoy vistas consisting of saltwater marshes, hammocks and the Kiawah River.
The Heron Park Nature Center offers guided nature walks where you can spot various birds and even alligators. Beachwalker Park features a boardwalk from which you can admire local plant life including palmettos and oaks. As for the private area of the island? Why not book a luxury golf vacation and enjoy world-class greens and opulent accommodation.
---
20. Isle of Palms
The Isle of Palms is a tiny barrier island situated only 12 miles away from the bustling city of Charleston. The island is surrounded by stunning sandy beaches and a system of marshes intersects it so you'll experience a variety of ecosystems. The island has been a popular tourist destination since the 1800s but today it's even more popular than ever before!
The main center is the town of Isle of Palms which lines the beach and is home to stately houses, affluent resorts, and fine dining restaurants. In the summer months, volleyball games take place on the beach and every year turtles arrive to lay eggs there. Isle of Palms County Park is where you'll find a beach area, a playground and some picnic areas.
---
21. Daufuskie Island
Daufuskie Island offers a taste of tropical paradise with its stunning beaches and warm summer temperatures. Though not completely deserted, this small island is home to around 400 people and boasts endless attractions.
Pristine nature areas, historical sites, and remarkable scenery make it a captivating destination. Popular activities include hiking, camping, kayaking, swimming, and biking, with chances to encounter wildlife such as alligators, sea turtles, and various bird species, even whales offshore.
Walking along the island's gravel roads shaded by ancient oak trees gives a nostalgic feeling of simplicity. If you're looking for a day trip or weekend getaway from nearby Hilton Head or Savannah, consider exploring Daufuskie Island for an unforgettable experience.
---
Beautiful South Carolina Islands map
---
South Carolina Islands FAQ
How many islands are in South Carolina?
There are 34 beautiful islands in South Carolina.
What is the most popular South Carolina island?
The most popular and well known island in South Carolina is Hilton Head Island.
What is the largest South Carolina island?
Johns Island is an island in Charleston County, and is the largest island in the state of South Carolina, and the largest of all the Sea Islands.
The island was christened after the Saint John parish in Barbados by its founding inhabitants. The Angel Oak, a Southern live oak tree aged between 400-1500 years, is nestled on this island.
What is the best island to live on in South Carolina?
Some of the best South Carolina islands to live on include Kiawah Island, Hilton Head Island, and Seabrook Island.
What is the most exclusive island in South Carolina?
Kiawah Island is to affluent Southerners what the Hamptons are to New Yorkers.
---
Plan For Your Trip to the South!
More Coastal Carolinas Travel Guides