Charleston is one of the most beautiful places to visit in South Carolina. It's been voted one of the best cities in America, so you can imagine there are many fun things to do in Charleston. The area is steeped in history, has fantastic beaches, great shopping, and some of the best restaurants and breweries in the Carolinas. You'll need a good chunk of time to explore Charleston properly as there are plenty of Charleston attractions to enjoy.
---
Best Things to Do in Charleston
---
Explore the Beaches Around Charleston
A short trip from the city, you will find a few options for relaxing sandy reprieves. The beach at Isle of Palms is wide and clean, ripe for a day of tranquility and one of the best beaches in South Carolina. It's an ideal spot for swimming, sailing, and sunbathing. There are two resorts accessible here, both with world-class golfing facilities, if you want to spend the day on the links with a sea breeze.
If you're looking to surf, we recommend trying the washout at Folly Beach near Charleston. This nearby shore has a larger population of adorable beachside bars and restaurants on their quintessential pier. Sullivan's Island is a close by seaside town right off of the harbor. It boasts beachy boutiques, culinary champions, small sand dunes, and plenty of charm to spare.
---
Visit The Angel Oak
The largest live oak east of the Mississippi, this iconic tree on Johns Island has built up quite the fan base. It's 65 feet high, 25 feet around, and estimated to be over 400 years old at least. The Angel Oak is a natural wonder of winding, twisting branches reaching up high and curving toward the ground. Its sheer size and majestic spirit will undoubtedly have you contemplating your place in the universe. This is one of the most popular, and most photographed, things to do in Charleston.
---
Learn at the Charleston Museum
The Charleston Museum is the place to really understand the significance of Charleston's history. Founded in 1773, it's often referred to as America's first museum. The collections of several permanent exhibits are vast and cover an extensive section of centuries, from prehistoric periods to present day. They showcase extensive artifacts and period paraphernalia that truly takes you on a journey through time.
---
Shop in Downtown Charleston
Downtown Charleston has become known as a premier shopping destination. It boasts hot brands, one-of-a-kind boutiques, and quirky vintage shops, all with the added bonus of that Southern charm. Blue Bicycle Books is a gem of an independent bookstore with a diverse selection ideal for browsing. Worthwhile is a chic shop selling fashionable clothing and accessories for women along with many self-care staples.
Ibu is a collective supporting women artisans from around the world by selling all of their intricate handmade goods. Goat. Sheep. Cow. is a specialty gourmet shop for all of your cheese needs. They also offer other local goodies and an always delicious daily sandwich, perfect for a mid-shopping snack. King Street Antique District has been heralded as the best antique shopping in the country. With a smattering of storefronts full of vintage treasures, make sure to stop in and pursue a plethora of period pieces. If you get hungry don't worry, there are plenty of fantastic restaurants in Downtown Charleston.
---
Wander the Shem Creek Boardwalk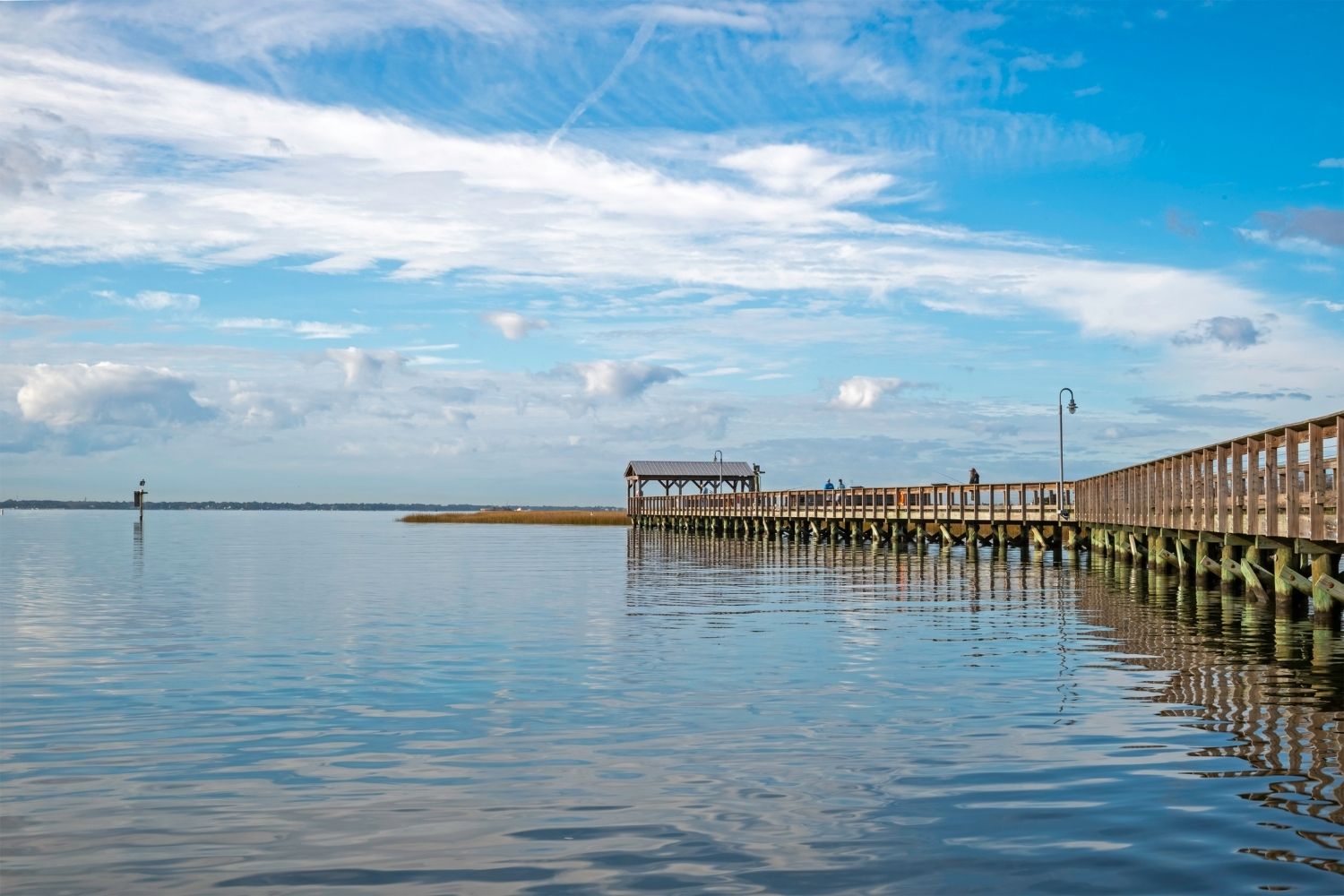 This is an idyllic way to discover the water wonders Charleston provides. There are plenty of tours and cruises leaving from this boardwalk. It's also the perfect place to try out other exciting activities such as fishing or kayaking on the open waters. It's 2,000 feet long, and is very popular for waterfront dining and drinking. There is also a fun water taxi that runs from here to downtown Charleston – what a way to get around the city.
---
Drink wine at Deep Water Vineyard
For a romantic weekend in South Carolina, why not head to a winery? Deep Water Vineyard offers tastings of all their varietals on their gorgeous 50 acre vineyard. They grow muscadine grapes, which are native to the Southeastern United States. There are different tours to choose from, including a self-guided option. The space is perfect to sit and sip, with swings, rocking chairs, and, of course, cornhole.
---
Have a drink at one of the many Breweries
Charleston is home to 25 breweries and a booming craft beverage scene. While it's hard to pick favorites, we love the refreshing hoppy creations consistently churned out by community giants Freehouse Brewery, Lo-Fi Brewing, Frothy Beard, and Revelry Brewing, providing a brew for every palate in the city. Freehouse Brewery sits on the banks of the scenic Ashley River, and serves up fresh flavors using local, organic ingredients.
Lo-Fi Brewing creates funky and drinkable brews in a minimalist warehouse. Frothy Beard Brewery has created quite the following in Charleston, with creative flights that incorporate unusual ingredients into tasty taps. Revelry Brewing has one of the best rooftops around, it's a great space to enjoy a crisp ale and watch the sunset.
---
Shop Local in the Charleston Markets
Housed in a prominent historical landmark, the Charleston City Market is a classic attraction and one of the oldest public markets in the country. It's a vibrant scene of vendors and visitors, and a fun, lively atmosphere for browsing locally made goods. Take home a treasure or try out a tasty treat there. Check out the talented Gullah artisans weaving traditional baskets from local sweetgrass.
Charleston Farmers' Market hosts an array of farm fresh produce and flowers along with locally made artisanal goods. Quite the weekly event, it's full of moseying neighbors catching up and live artistic performances, a beautiful way to feel the heartbeat of the city.
---
Learn About History in the Plantations and Gardens
Charleston is a town of deep history and sometimes dark heritage. Touring their several remaining plantation and garden estates is an educational way to explore this cultural aspect of lowcountry. Drayton Hall is the oldest unrestored plantation house in the nation, offering a unique, undisturbed glimpse into the past. Walk the old halls of the house to truly understand the gravity of the antebellum period.
Magnolia Plantation and Gardens are America's oldest public gardens. Often referred to as the last large romantic-style grounds, a mosey through these magical acres is sure to charm any nature lover. There are many on-site activities to further learn about the space, such as a nature center and boat tour. At Middleton Place Plantation you will find America's oldest landscaped garden. There is a stunning series of terraces, pools, and hedges to wander through, plus there is plant life blooming all year-round. You can also tour the house turned museum for historical perspective and remaining artifacts.
---
Enjoy Live Music
Forte Jazz Lounge is a cozy haunt showcasing local talent. It's the only dedicated jazz bar in the city, and undoubtedly the best spot to listen to the sweet sounds of smooth jazz, both classical and experimental. The Bend is a 20-acre community project along the Ashley River. They host an array of events in their stunning outdoor space which aims to connect people in unique and special ways. Their impressive pavilion has been the site of many diverse and accomplished musical acts.
---
Delve Into History Through American Art
Halsey Institute of Contemporary Art features a rotating display of up-and-coming modern artists of all mediums in several gallery spaces. Gibbes Museum of Art has one of the foremost collections of American art around. It incorporates Charleston's history through this lens, connecting the history of art in the area to the present day. Holy City is a walking gallery in and of itself.
Wander the streets to discover incredible works of art adorning buildings and walls. Shepard Fairey, who is a native, has created several murals in his iconic street style, see if you can spot them all in your adventures here.
---
Promenade The Battery
A popular historical attraction, the Battery is an iconic seawall originally used for artillery and has since turned into a gorgeous promenade. Ashley and Cooper Rivers meet here to form the stunning, scenic harbor. White Point Garden is located here as well, and is one of the best picnic grounds around, with lush green grass and cool, breezy shade provided by the canopy of ancient oaks.
Nestled along the Cooper River, the 12-acre Waterfront Park is home to the most photogenic fountain you've seen. Pineapple Fountain is a picturesque structure in an idyllic landscape. Park benches and swings face the waves to gaze out over the sailboats. Keep your eyes peeled for spotting Dolphins in the Atlantic. If you need to beat the heat, don't be afraid to wade into one of the waterfront pools – it's a favorite practice of many locals and a great thing to do in Charleston with kids.
---
Photograph Rainbow Row
This cluster of charming candy-colored, Georgian-style homes is an iconic representation of Holy City. This is one of the most classic things to do in Charleston for visitors. Have your camera ready for plenty of picture-perfect pastel photo ops along these quaint rows of traditional abodes. It's the longest cluster of Georgian row houses in the country.
---
Walk Around Fort Sumter
The site of inception for the American Civil War, Fort Sumter is steeped in history. The ruins of this battered battleground are well preserved, allowing for an enjoyable and educational experience about its role in the nation's past. It's accessible by a beautiful boat ride from Patriots Point or Liberty Square. The views over sparkling seas and real antique cannons create an even more enticing scene. This is one of the best historical things to do in Charleston.
---
Sample Tea at The Charleston Tea Garden
This is the only large-scale tea farm in North America, with 127 acres of thriving Camellia Sinensis plants. Sample the home-grown goods and take a look into the tea making process on a factory tour. You can also take a trolley tour through the spectacular fields and treat yourself to some delicious loose leaf afterwards.
Charleston Tea Garden also partners with the local Firefly Distillery. Together they create the iconic Southern beverage, Sweet Tea Vodka, for which they are most famous. They make rum, bourbon, and a very popular moonshine as well. They often host events throughout the year, and it's definitely worth a visit if the tea is not doing it for you on its own.
---
Take a Self Tour Through Old Slave Mart Museum
Deep in the French Quarter lies a dark remnant of a devastating history. It is the market where slaves were auctioned prior to the Civil War, turned into a chilling museum. It's a sobering but essential visit in order to truly engage with the realities of Charleston's and the country's not so ancient past. It's a self-guided tour and is a deeply affecting educational experience.
---
Admire the Unitarian Church
The pathways on the Unitarian Church grounds are well maintained, while crumbing gravestones are slowly covered by growing greenery. Nature overtakes at this churchyard. The church itself is the second oldest in the city and is an astounding architectural sight. Many believe it was the subject of Edgar Allen Poe's famous poem Annabel Lee. It's said to be haunted, but either way we are convinced that it's eerily and dreamily beautiful.
---
Appreciate the Historic Houses
Many of the iconic aristocratic mansions of Charleston are open to tour. Take a peek into the antique and lavish lifestyle of the old-fashioned elite. Nathaniel Russel House is a resplendent Neoclassical structure from 1808, known for its ornate plasterwork and three story, freestanding staircase.
Aiken-Rhett House is an 1820 estate, providing an insight into the antebellum era of the South with a fully informative tour of the quarters. It is extremely eye-opening. Calhoun Mansion is the largest personal residence in Charleston, with 35 rooms. First constructed in 1876, it has since been restored to its former glory. It's an accurate representation of opulent Gilded Age decor.
---
Hidden Walks
Gateway Walk is a wandering path made in the 1930s. It's a sweet nip into nature that crosses through several ancient church grounds and overgrown graveyards. It feels like discovering a well-kept secret of the city to trace its tucked away trail.
Longitude Lane is a hidden corridor in Charleston that is designed with enthralling entryways and fantastic foliage. If decorative doorways are your thing, this charming cobblestone path is just for you. Mepkin Abbey is a trappist monastery hidden within Holy City. On the grounds of a former plantation, visitors are welcome to explore the serene landscapes.
---
Bike the Palmetto Trail
The Palmetto Trail is a beautiful way to embrace the natural landscapes of Charleston, perfect for active outdoor enthusiasts. It circumnavigates acres of palm tree forests, a great way to get up close and personal with the South Carolina symbol. There are miles and miles of trails that will ultimately stretch mountain to sea. Choose a trek and set off to discover wildflowers, salt marshes, and verdant vistas. 
---
Things to Do in Charleston, South Carolina Map