Charleston is one of the best places to visit in South Carolina and has evolved into quite the exemplar of eclectic eateries. The food found in Holy City is often defined by its coastal character and soul food inclinations, meaning there are plenty of delicious Charleston restaurants to try.
It's a city with a rich history, reflected in the flavors of its authentic cuisines. You will find everything in Charleston restaurants from the classics of Southern comfort cooking to exotic flavors of far off places, all created with fresh ingredients and innovation.
Plating up winning combinations of the old and the new, redefining farm-to-table better than the rest, and honoring the roots of Carolina BBQ and Eastern seafood; it's easy to see why Charleston has risen high up in the ranks of foodie favorites so quickly. The cheap eats are just as satisfying and delicious as the gourmet feasts. With enticing creations for every taste, your palette will certainly be pleased. We've handcrafted a list of the best restaurants in Charleston for all price points.
The Best Charleston Restaurants – Quick Answers
Best Charleston Restaurant for Date Night: High Cotton
Best Charleston Restaurant for BBQ: Lewis Barbeque
Best Charleston Restaurant for Cheap Eats: Big Mike's Soul Food
Best Charleston Southern Eats Restaurant: Hannibal's Kitchen
Best Charleston Restaurant for Seafood: The Darling Oyster Bar
Best Restaurant in Charleston for Breakfast: Daps
Best Sushi Restaurant in Charleston: SHIKI
---
The Best Restaurants in Charleston, SC
---
Hannibal's Kitchen ($)
One of the best things to do in Charleston is have a little soul food, and Hannibals is just the place to do that! This charming hole-in-the-wall joint offers the best soul food around. It's family-owned and operated, and has been a local favorite for over 40 years. We'd definitely cast our vote for top of the best restaurants in Charleston. They preserve the rich Gullah history and culture through authentic cuisine.
While it's definitely a no-frills type of establishment, the flavors of the food have become the stuff of Lowcountry legends. The fried chicken, mac and cheese, and collard greens dish is to die for. The art of culinary crafting is the real deal here.
---
Lewis Barbeque ($$)
Nothing says Carolina like a good old fashioned barbecue meat fest. The clean and modern space lies slightly off the beaten path and lets the food speak for itself. The pit master, John Lewis, is renowned for bringing the best of Austin barbeque to Charleston. With counter service and picnic table, the airy and laid back vibe fits the fare perfectly.
You're given a tray to fill up with melt in your mouth brisket, sizzling 'hot guts' sausages and any other moist meats that strike your fancy, for a fun and interactive eating experience. Don't skip the scrumptious sides, like the green chili corn pudding.
---
Daps ($$)
Daps is a dream spot for all who hold breakfast near and dear. As the most important meal of the day, it's only right to want to embrace it all day. Daps is also one of the best restaurants in Charleston for that early evening omelette craving, without the typical greasy spoon setting.
It has a rustic and homey feel, with just a dash of cute quirk. The menu encourages the 'anything goes' indulgence that we all need sometimes, with features such as a breakfast wine list and mimosas on tap. It's one of the best breakfast and brunch spots in Charleston – great for neighborhood gathering, they've hit the perfect balance between relaxed and refined.
---
Millers All Day ($$)
Miller's All Days is Instagram worthy dining at its finest. The decor is designed for filtered photo-ops, with a bar modeled after an old fashioned pharmacy soda fountain, a terrarium coffee counter, and vintage vinyl collection.
They serve up creative takes on diner food staples, using local, fresh ingredients and heirloom grains that stay on display. You may have seen their unicorn grits pop up on your feed, but specials, like the Hoppin' Johns, have elevated the space to cult status. Feast your eyes (and mouth) on whatever delicious dish is being served up here.
---
Xiao Bao Biscuit ($$)
Do not be fooled by the name, if you're looking for fluffy, Southern-style biscuits, keep on walking to Callie's Hot Little Biscuit shop. If you're looking for bold and inventive cuisine that combines Southern comfort foods with Asian styles and flavors, you've come to the right place.
Located inside a renovated gas station, its exposed brick and street art finishings offer a hip and casual atmosphere. The menu is short and always fun, and takes inspiration from China, Taiwan, Thailand, and Vietnam. Be ready to eat something with a kick, and be sure to choose a dish that has the famous pork candy on top.
---
The Darling Oyster Bar ($$)
A Charleston favorite for all things seafood, The Darling Oyster Bar creates an airy and elegant space to enjoy time-honored coastal treats. Overflowing with curb appeal, it's hard to mosey by the grand glass windows for a peek and not be drawn inside. You can even watch the local shuckers preparing the mouth-watering mollusks as they roll in from the shores.
Each drink is crafted and paired perfectly with a fresh fishy dish, however, the bloody mary is a true showstopper here; best ordered with all the fixings. Whether you prefer a fry basket or the raw bar, this space celebrates the sea and Charleston history with vintage flair.
---
Taco Boy ($$)
Taco Boy puts out delectable Mexican food that feels both original and whimsical. They know how to keep the clientele on their taco toes, with everything from well done staples like al pastor, to exciting variations like kimchi tacos. It's perfect for a quick bite and a beer, or a relaxing, lingering meal of taste-testing every stand out street food.
The ambiance feels funky and traditional, with a vibrant decor full of color and live music. The cocktail offerings are crafted for craving, including many top-notch tequila frozen concoctions. The outdoor seating makes for an extra lovely way to spend a day. There's never a dull moment or a dull mouthful at Taco Boy.
---
The Obstinate Daughter ($$)
Located on nearby Sullivan's Island, The OD (as the locals refer to it) is a must-visit in the Charleston area. Offering rustic Italian eats made through a coastal lens, this cozy seaside venue is just as unique as it is tasty. With housemade pastas, fresh seafood, and wood fired pizzas, the menu here is sure to entice and impress.
Always drawing a crowd, it's a beachy space where friends often gather to share multiple plates and enjoy a salty breeze from the second floor, so it's best to head here after a great day at the world famous South Carolina beaches.
There are extensive taps full of local beers, as well as fine Italian wines to try. The decor is stylish and bright and the atmosphere is relaxed.
---
167 Raw ($$)
This is a small but substantial seafood joint, so make sure to arrive ready to beat the rush. Even if you get stuck in a line, don't worry, you'll be served sparkling beverages while you wait. The ambience is funky, full of boisterous fun, with lively music blasting through and a bustling crowd to match.
The menu boasts simple seafood staples, such as a good ol po' boys, lobster rolls, crudos, and tacos. The raw bar is enjoyable to gaze on or gobble up. The more creative choices are just as coveted. The arctic char dumplings and shrimp boudin balls have made a name for themselves among locals and visitors alike.
---
The Grocery ($$$)
The Grocery focuses on sourcing the freshest and most local ingredients possible. They love to put a vegetable-forward dish on the plate. The flavors are inspired by Mediterranean cuisine for a fun twist on the typical Lowcountry fares.
The menu is always seasonal, and the curing and canning are all done in-house. They partner with local fisherman, farmers, foragers, and artisans for a truly organic and sustainable experience.
The decor features warm woods and soft lights inside a reclaimed warehouse space. Making such lists as 'best Charleston restaurants to bring your parents' or 'hottest happy hours', we bet you can find any number of remarkable reasons to plan a visit to The Grocery.
---
Chez Nous ($$$)
Every day at Chez Nous is different. The menu is written out by hand daily with only two appetizers, two mains, and two desserts. Aptly named, Chez Nous means 'Our Home' in French. It feels like a surprise dinner party that you're always invited to.
This is a great spot for a romantic South Carolina rendezvous or an intimate gathering of friends. There is an impressive variety of traditional French, and sometimes other European, dishes expertly plated up in this cozy streetside hot spot. Enjoy al fresco dining in French fashion here.
---
Husk ($$$)
Famously visited by the late great Bourdain, Husk has been high up on the culinary scene in Charleston for some time now. Each meal begins with the beloved benne seed and bourbon-barrel-smoked salt dinner rolls served with pork infused butter.
Housed in a 19th-century Queen-Anne style mansion, the ambiance feels elegant but unfussy and all-round classically Charleston.
The menu focuses on ingredients sourced exclusively from the South, and even includes the names of which farms provided produce for each daily dish. The "husk" puppies and shrimp 'n grits do not disappoint. Husk is celebrated as a triumph in the local food realm and as one of the best restaurants in Charleston.
---
FIG ($$$)
Fig is an institution of creative Holy City cuisine, and a favorite for fine dining. The name stands for Food Is Good, and it was the original farm-to-table innovator of the area. The food lives up to its reputation, offering new and exciting meals you won't find on a menu anywhere else. Their ricotta gnocchi has become quite the staple among locals.
They are also known for their use of bycatch. This means they work closely with local fishermen to incorporate perfectly delicious fish that have been caught accidentally and would otherwise become waste. In the end, this prevents overfishing and supports sustainable food systems. We love that their fabulous fares have an earth-friendly ethos. Dining at FIG is a truly elevated experience.
---
Slightly North of Broad ($$$)
With an acronym that spells out SNOB, we love the unapologetic attitude of this upscale bistro. The gourmet spread has won many awards throughout its years, and its menu is never boring to say the least. Inspired cuisine using fresh, seasonal ingredients creates a service that feels so thoughtful and considered.
The presentation packs personality, and the renovated 19th-century warehouse with an open kitchen feels welcoming and impressive. Whether you stop in for a signature cocktail or gastronomic feast, be sure to make a reservation in advance, they've been hard to get into since they opened the doors 20 years ago.
---
Magnolias ($$$)
Wooden beams and white table cloths let you know immediately that you have arrived in a classic Charleston culinary haven. With upscale Southern cuisine, this is a great way to try all the best Lowcountry has to offer. Refined takes on local favorites, Magnolias truly brings artful cooking to the table.
They provide sophisticated hospitality and a top-tier meal. Enjoy small plates of fried green tomatoes, and mains such as blackened salmon and creole grits. While we often think of Magnolias as the perfect spot for a celebratory night out, their brunch is not to be overlooked. Try the prawn gumbo omelette that has everyone raving.
---
Zero Restaurant + Bar ($$$)
Zero is a full start to finish molecular gastronomy experience. There are three separate tasting menus. One is for omnivores and one is for herbivores. The last is one created specifically for diners who are on their way to the theater, as Galliard is right down the street. This is easily the favorite pre-show tradition. It's located in the Zero George Hotel, an extravagant boutique inn.
The space itself is tiny, creating an intimate dining experience, where it feels as if the talented chefs are cooking up their eats just for you. Every offering is extremely modern, so expect to get cutting edge culinary creations.
This is a great way to dine if you love to let go and enjoy a rich flavorful ride, as dictated by the experts. It's gourmet gastronomy and an appetizing adventure all in one.
---
Hall's Chophouse ($$$$)
This is our dream destination for a thick juicy steak, a stiff drink, and a swinging live band. It's everything you want from a chophouse, and has basked in the foodie spotlight for years.
The old school feeling is matched with high energy and a warm welcome that assures your needs will be catered to. The steaks are the finest and freshest prime cuts, wet or dry-aged for at least a month before serving. The wine list is award-winning and perfect for pairing.
In an unexpected twist, this carnivore-centric eatery also caters to vegetarians and vegans with a variety of delicious dishes. They also excel in fresh catches, as well as veal, chicken, pork and, of course, their burgers are always a huge hit. Despite this, we would be amiss to not highly recommend their superb and scrumptious fillet mignon.
---
High Cotton ($$$)
Experience genuine Charleston hospitality as you transition from lively conversations and laughter in the High Cotton bar to the elegant dining rooms with heart pine floors and antique brick.
Here you don't just come for food, but it is a celebration of community, delicious food and drink, and each other never ends. Easily one of the best Charleston restaurants; come here for a beautiful dinner and try the Antarctic salmon or New Bedford scallops.
High Cotton also features a creative cocktail menu and often has live music! High Cotton can also cater to your needs if you are hosting a private function!
---
SHIKI ($$$)
This family-operated sushi bar and Japanese restaurant has been running strong for 19 years and is Downtown Charleston's longest-operating sushi bar. It offers a quaint and cozy atmosphere for sushi enthusiasts to enjoy. If you are craving sushi in Charleston, Shiki is your go to.
Shiki has an impressive sake collection, perfect for pairing with your nigiri. We recommend trying the chef's "Omakase," which means "I'll leave it up to you" for $80 per person. The chef will serve the best cuts of the day in a beautiful traditional Japanese celebration.
---
Poogan's Porch ($$)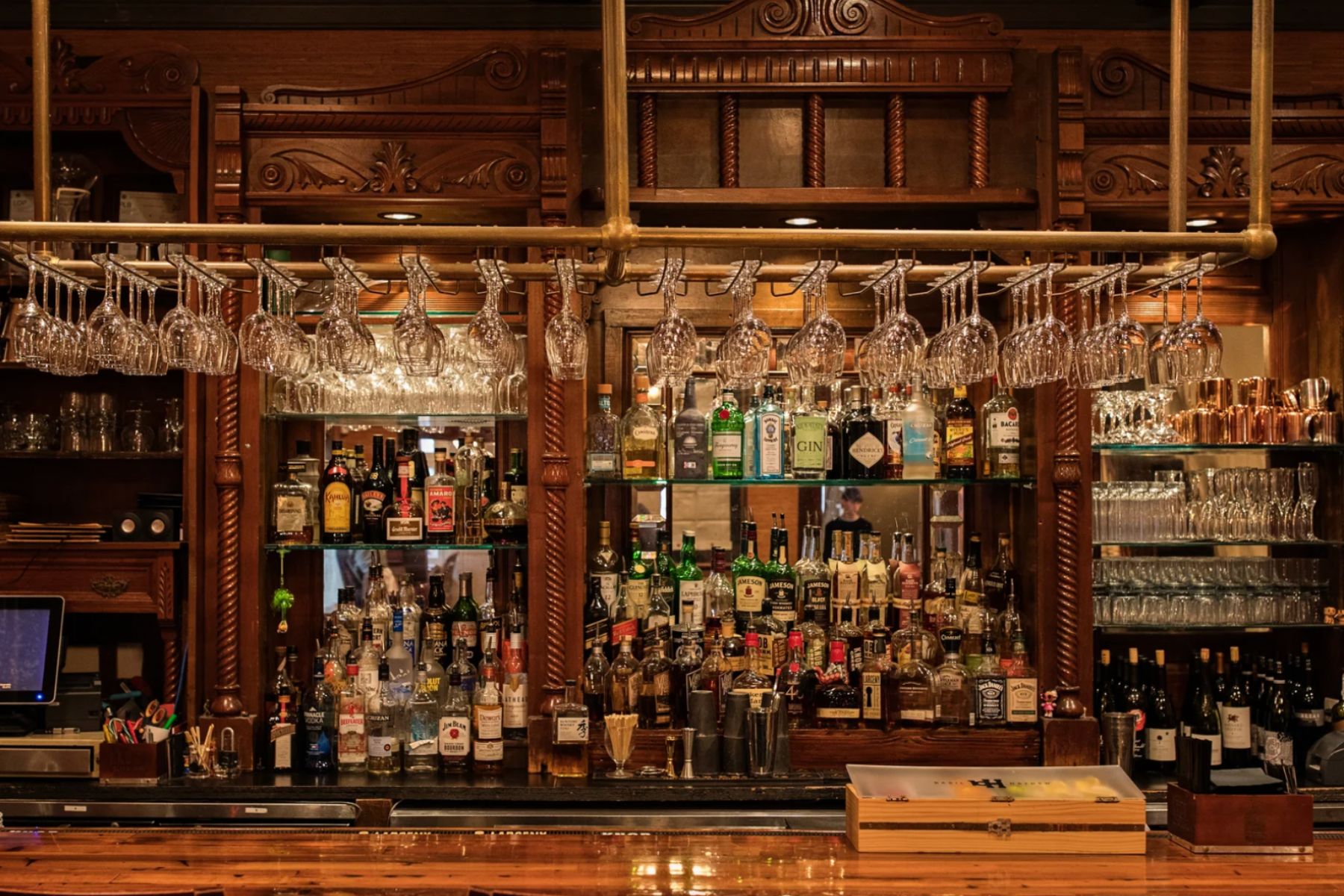 Having opened its doors in 1976, Poogan's Porch has become a beloved Southern institution, frequented by well-known celebrities, politicians, tourists, and locals alike. It's one of the best Charleston restaurants, and we can't stop raving about the restaurant's signature dishes, like the warm homemade buttermilk biscuits and sausage gravy, she-crab soup, and buttermilk fried chicken.
The parlor of Poogan's Porch exudes a strong sense of history, with its knotted heart-of-pine floors, dual staircases, and first and second-story porches that all harken back to the Charleston of days gone by.
Originally, the building was a spacious, commodious home built in 1891. Over time, the neighborhood underwent a transformation that ultimately paved the way for the conversion of the house into a restaurant.
The last residential owners of the property eventually sold their home and left the neighborhood dog they had grown to care for behind – his name was Poogan and Queen Street was his terrain and he loved being a porch dog. The restaurant is named in his honor.
---
Charleston Restaurants Map
---
TRAVEL AROUND CHARLESTON
Hopefully our favorite Charleston restaurants has helped you determine where to grab a bite! For more travel around Charleston, see below!
Plan For Your Trip to the South!