If you ever find yourself swept to Edisto Island, an immaculate gem in South Carolina's island landscape, make sure to check out the best Edisto Island restaurants on offer. Whether you want fine dining or a casual gastronomic adventure, Edisto Beach restaurants have plenty to offer.
Aside from the picturesque views, the thrill of meeting new people, and the memories of a new place, great food makes a vacation more exciting and memorable. You can try to have the best time of your life, but if your stomach is empty and unsatisfied, any experience will always fall short.
These gastronomic gems will make your memories of Edisto Island unforgettable for years. Find the Edisto Island restaurants and places worth checking in the list below!
---
The Best Edisto Island Restaurants
---
1. The Waterfront Restaurant
Aside from being ranked first among the best Edisto Island restaurants, The Waterfront is TripAdvisor's recipient of Traveler's Choice for consistently receiving good customer reviews. It boasts of its delicious menu jampacked with palatable seafood, local cuisine, and classic American dishes. 
The Waterfront also has vegan, gluten-free, and vegetarian-friendly options and a vast lunch, dinner, and brunch selection. The place also offers a pleasing ambiance, making the dining experience much more palatable.
Some exciting dishes you can try are their flounder sandwich, fried seafood, and crab cakes. 
---
2. SeaCow Eatery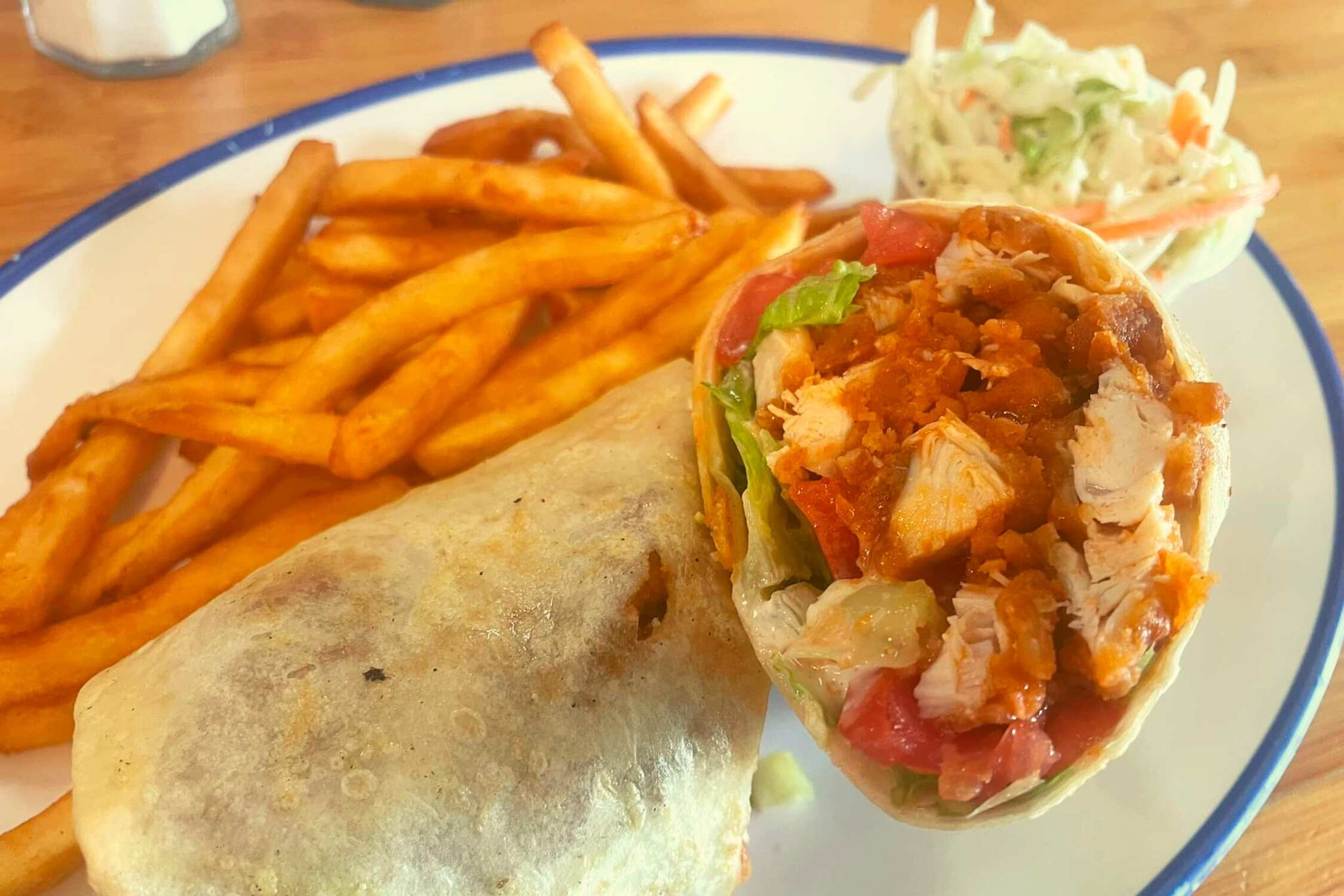 Suppose you feel like having breakfast in a small-scale yet quaint place in Edisto Beach. SeaCow is the place is the best spot for that ambiance. SeaCow Eatery, founded in 1996, is a family-owned restaurant and is ranked as one of the top restaurants in the area. 
The restaurant serves palatable choices for breakfast, lunch, and dinner. A wide array of homemade desserts is also available in the restaurant, such as bourbon pecan pie, key lime pie, and peanut butter silk pie. Outdoor seating is also available if you're feeling like enjoying nature while having a meal with loved ones.
---
3. Flowers Seafood Company
This mobile kitchen will surely give you an exciting gastronomic experience while on Edisto Island. If you're in the mood for something other than the usual place with set four walls and a roof, this one offers a unique dining experience in nature's embrace. 
Enjoy quality and variety with their delicious selection of specials, delightful seafood dishes, local cuisines, and American-inspired menus. Seafood orders are freshly picked and cooked, and you can dine under the beauty of large oaks in a starry-night sky or the soft glow of the Edisto Island sunset.
---
4. Whaley's
One of the best restaurants in Edisto Island, this place also serves a fantastic array of local seafood specialties such as catfish, scallops, cod, and shrimp. The menu showcases a variety of lunch and dinner options for you to enjoy, like homemade chips, crab cakes, and prime rib sandwiches, along with mouthwatering desserts! 
Whaley's, furnished with its excellent bar, also has some good drinks (the grape soda alcoholic drink is a must-try!) to offer. There is also some energizing live entertainment in the background and a karaoke night on Mondays, which make the ambiance extra upbeat and enjoyable. This place is open seven days a week and also accommodates takeout orders, if you'd rather have your meal at your accommodation.
---
5. Pressley's at The Marina
Hoping for a quality local flavor and seafood galore? Pressley's is one of the top five restaurants in Edisto Island, and bonus that it has a great location on the water.
It has a variety of menu selections featuring some of the best local cuisines, seafood, and other American-inspired dishes. You can also have vegetarian-friendly and gluten-free options, which is very convenient.
Reviews rave about the great atmosphere in the place, and there's picturesque outdoor seating available, so it's entertaining if you want to dine under the night sky or just somewhere close to the sea. We highly recommend you try out their blackened Mahi unique and shellfish dishes.
---
6. Tortuga's Mexican Grill
Tortuga's is one of the places you must check out while in Edisto Island if you're craving Mexican. If you are craving delicious Mexican and Southwestern food- tacos, burritos, quesadillas, nachos- Tortuga's is no doubt the ultimate destination. 
The restaurant offers breakfast, lunch, and dinner options which you can enjoy with their flavorful homemade sauces, guacamole, and salsas. These unique Mexican flavors are available in vegetarian, vegan, and gluten-free options.
Try their delicious huevos rancheros, black bean tostada, and carna asada hash. These are perfect breakfast options at a reasonable price!
---
7. Briny Swine
Are you looking for the best lunch and dinner options? Located on Edisto Beach, this place is one of the top restaurants and the only smokehouse and raw bar on Edisto Island. 
If you are craving an excellent roast, ribeye, and oysters, this place should be at the top of your list! The name is inspired by two Southern favorites, i.e., pig pickings and oyster roasts. The place offers impeccable seafood dishes, a kids' menu, sandwiches, barbecues, homestyle desserts, local brews, and unique cocktails.
You can pick the tasty tuna tostada and roasted BBQ oysters from the raw bar and pair them with yummy cocktail concoctions.
When dining with your loved ones, you can also give their buttermilk fried shrimp and smoked meat platters a go. Another great pick is their nutrient and flavor-dense BBQ Cobb Salad and the delicious buffalo blue cheese fried oysters. Give all of these a try at Briny Swine now!
---
8. Dockside Bar & Grill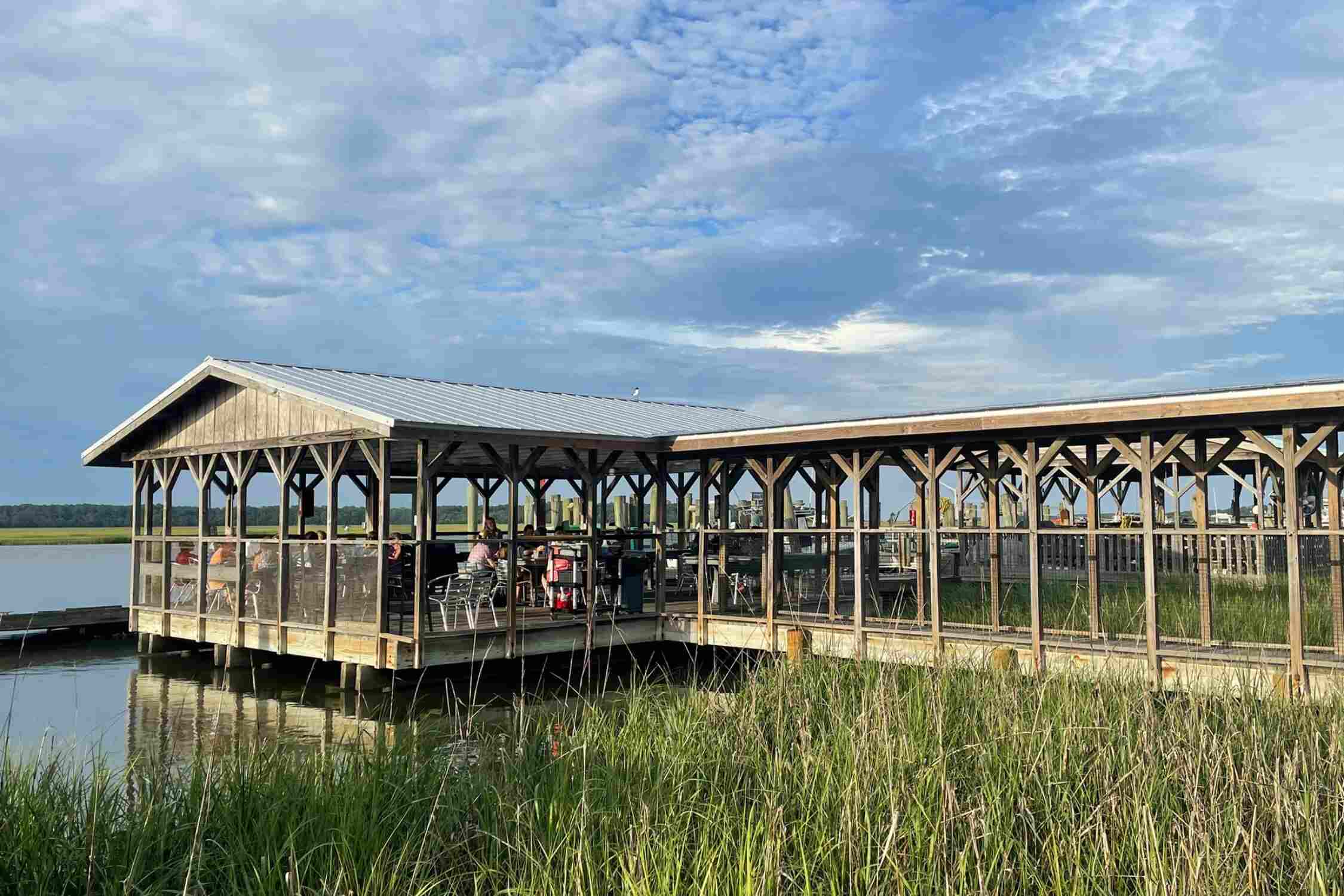 One of Edisto Island's go-to seafood specialties is the Dockside Bar & Grill. This place is perfect for late nights out as it is open until 2 am, with a fantastic bar, excellent service, great views (sunsets, sea, and boats!), and live music on specific days. Dockside offers an array of seafood dishes, burgers & appetizers, mouthwatering desserts, and various refreshing drinks.
You can try their delicious yet reasonably priced shrimp, scallop baskets, fried oysters, seafood tacos, and BBQ bacon-wrapped scallops. There's no better place to spend the night in Edisto than on the Dockside!
---
9. Ella & Ollie's
Ella & Ollie's is one of the top seafood restaurants on Edisto Island. This place is one of the best for seafood and American-style cuisines. The service and the ambiance are impeccable, and the menu offers a lot of variety regarding seafood dishes (i.e., a great selection of fried and saucy options!).
There are also great lists of cocktails, liquors, and wine to try, as well as mouthwatering small plates (don't skip the meaty wagyu beef carpaccio!). If you ever find yourself here, don't forget their delicious BBQ shrimp dinner, shrimp cakes, and shrimp & grits.
---
10. Coot's Bar & Grill
This restaurant is raved on in reviews as having one of the best oceanfront views on the island. Who wouldn't fall in love with the Atlantic seascape on a sunny, breezy day or night with their favorite food in hand? Coot's offers American-style and seafood cuisines, and this is one of the best places for a casual, happy hour moment on one of the best beaches in South Carolina.
If you enjoy plenty of high-top tables and good drinks, this one has it! You can also eat on the pier or the rear deck, order your favorite liquors (or perhaps try a new one!), and have fun dining near the seascape with loved ones. You can try their delicious wraps, fish sandwiches, a burger with tater tots, and coconut rum for a drink!
---
11. E & O Taco
Can't get enough of hot and tasty Mexican dishes? Another great place to try in the area is E&O Taco. Their soft tacos are a must-try, especially with their tender beef and meaty-packed goodness. It's prepared with fresh ingredients that you can enjoy with scrumptiously made salsas, chips, and guacamoles.
There is also a good selection of different tacos to choose from if you want more than the usual flavors – e.g., fish, beef brisket, and tuna tacos.
E&O also offers delicious Korean pork belly and carnitas that you can try. Liquors and beers are also available. Outside seating is also available, something you can enjoy if you love dining with the fresh sea breeze and extraordinary seascape.
---
12. The Old Post Office Restaurant
Set in sn old post office & general store, The Old Post Office Restaurant is now home to a charming eatery for innovative Southern fare. Serving savory seafood dishes and American-style cuisine, this is a top place to eat for dinner.
The incredible ambiance, wide menu selection, and fantastic service are worth checking out. You can try out their pecan smoked salmon for an appetizer, flavorful salads, and Angus ribeye for an intimate dinner.
---
13. McConkey's Jungle Shack
McConkey's is another fun place to try on Edisto Island. With great outdoor seating, service, a wide selection of dishes (international, American, and seafood), and impeccable service from the staff, you'll truly enjoy your dining experience in Edisto. The place has a great beach shack ambiance and lends a casual yet fun vibe.
They also serve vegetarian and vegan-friendly options, as well as gluten-free dishes. Try out their cobb salad with blackened Mahi and mahi-mahi fish sandwich for lunch and some Dahoo punch for a refreshing drink!
---
14. The Local's Pizzeria
If you're craving some excellent and flavorful pizza while in Edisto, The Local's Pizzeria is the best place to be. Get your great fill of delicious thick and thin crust with various luscious toppings- from the juiciest mushrooms, olives, pineapples, and cheese. This place also offers delivery services.
---
15. 3 Gulls Creamery
For sweet and delicious dessert options after your dinner, head to 3 Gulls Creamery. You have plenty of ice cream flavors to choose from. There are also sundaes and delicious milkshakes to quench your thirst and the summer heat.
Try out their caramel cheesecake cookie monster ice cream served in a chocolate waffle cone!
---
16. Edingsville Grocery Restaurant and Bar
For more seafood options on the island, head to Edingsville. This family restaurant is famous for its impressive list of liquors for you to enjoy and they have a variety of lunch and dinner options for the whole family. Do yourself a favor and order their tasty shrimp & grits, crab cakes, and shrimp scampi!
---
Best Edisto Island Restaurants Map
---
TRAVEL MORE OF COASTAL CAROLINA