Rock Hill is widely considered to be part of the Charlotte metropolitan area, even though it's a suburb set just over the state border in South Carolina. It's home to scenic vistas along the Catawba River, as well as over 30 parks, numerous nature trails, and several colleges. Their food scene often gets overlooked, but there are some delicious restaurants in Rock Hill, SC to enjoy!
The historic downtown is super charming and boasts a delightful and diverse array of eateries to enjoy. There's a meal for every mood here, from fresh seafood to global gourmet grub. Find your favorite fare at any one of these best Rock Hill, SC restaurants.
---
The Best Restaurants In Rock Hill, SC
---
The Pump House
Move over nearby Charlotte restaurants, The Pump House Rock Hill is here! The Pump House is known for its enchanting riverfront location and tasty New American plates. The cuisine is all Southern inspired and locally sourced.
The ambiance is certainly sophisticated, and the rooftop bar is the place to be for sweeping panoramas in Rock Hill.
There's an extensive selection of fine wines, craft beer, and specialty cocktails. You can go for brunch, lunch, or dinner to enjoy a lively time. The Stuffed NC Mountain Trout comes highly recommended here.
---
The Flipside
Set in the historic downtown district of Rock Hill, one of the best places to explore in Rock Hill, the Flipside is a famous spot to grab a bite in the neighborhood. They cook locally inspired comfort foods in a refined way for elevated plates in an upscale space. It's a great destination for a hearty brunch, laidback lunch, or relaxing dinner.
The Flipside Biscuit Board is a thing of beauty in the breakfast world. For vegetarians, there's fantastic fare as well, like the Truffle Mushroom Hash. Later in the day, it's a good idea to ask about the Daily Mac and Cheese choice.
---
Amelie's French Bakery
This cafe and bakery offers all kinds of sweet and savory treats made fresh every day. Amelie's focuses on creating each bite with intention, purpose, and a little whimsy to build a space of comfort, nourishment, and community.
As such, they support a lot of local nonprofits that focus on those who are most marginalized and underserved in the area.
We love to indulge in gourmet pastries for a good cause! The menu is seasonal and the atmosphere is adorably Parisian. The Signature Chicken Salad Croissant Sandwich, the Fig Bacon, and Brie Tartine, and the Classic Croque Monsieur are just some of their more impressive offerings.
---
Burgers and Barley
Burgers and Barley is a favorite in Rock Hill to eat, drink, and devour. Daily beverage specials make it a fun place to let loose and kick back, especially if it's with a cold craft beer (hence the barley part of the name). The ambiance is warm and modern, with brick walls, big screens, and bar stools.
Start your feast off with House Made Beer Chili or the Fried Green Tomatoes before crafting every aspect of your very own dream burger creation.
---
Mario's Pizza
For an authentic NY style slice or other traditional Italian cuisine, Mario's is the go-to in town. It's a no frills space with some serious old school charm. Don't be fooled by the unassuming facade, inside you'll find black-and-white checkered floors and red vinyl booths for a retro feel.
Everything is made fresh each day, including the sauce and the dough, which we all know makes every difference when it comes to the perfect pizza. There are classic pasta dishes and pies, the fan favorite tending to be Meatball or Chicken Parmesan in either form. The lunch buffet is also a great deal.
---
Los Cantaritos
Los Cantaritos is the mecca for amazing and authentic Mexican meals in the area and considered one of the best restaurants in Rock Hill. The name comes from a traditional cocktail served in a handmade clay jug that we highly recommend trying while here.
Quesadillas, tacos, burritos, enchiladas, chimichangas, and fajitas all grace the menu, plus the Birria is a thing of real beauty at this spot. The Dinner Sampler, which feels like it includes a bit of everything, has rave reviews throughout Rock Hill as well.
---
Common Market
This is a neighborhood staple of all the surrounding areas and the perfect balance of an old school general store with a touch of contemporary convenience. They're a one-stop shop for all your needs.
There's a coffee shop, a deli, an excellent wine and craft beer selection, a full bar, an eatery for any meal of the day, a music and art venue, and a specialty shop full of carefully curated wares and curios. It's easily one of the coolest places to pop into Rock Hill.
There's always a daily special to try, and the main menu features classic breakfast, lunch, and late night plates. Also, anything on the menu can be made vegan or vegetarian!
---
The Dixie Pig
The Dixie Pig is an intimate and low key local institution offering all the familiar smoked meats that South Carolina is known for. Everything is cooked slowly and topped with homemade sauces for a high quality experience.
You'll find the usual Southern suspects; pulled pork, fried catfish, chopped brisket, and smoked chicken. Don't sleep on the sides here either. The Pork Sundae is a beloved savory specialty.
Pro tip, as this is one of the best restaurants in Rock Hill, try to arrive early rather than later as things tend to sell out fast.
---
Old Town Kitchen and Cocktails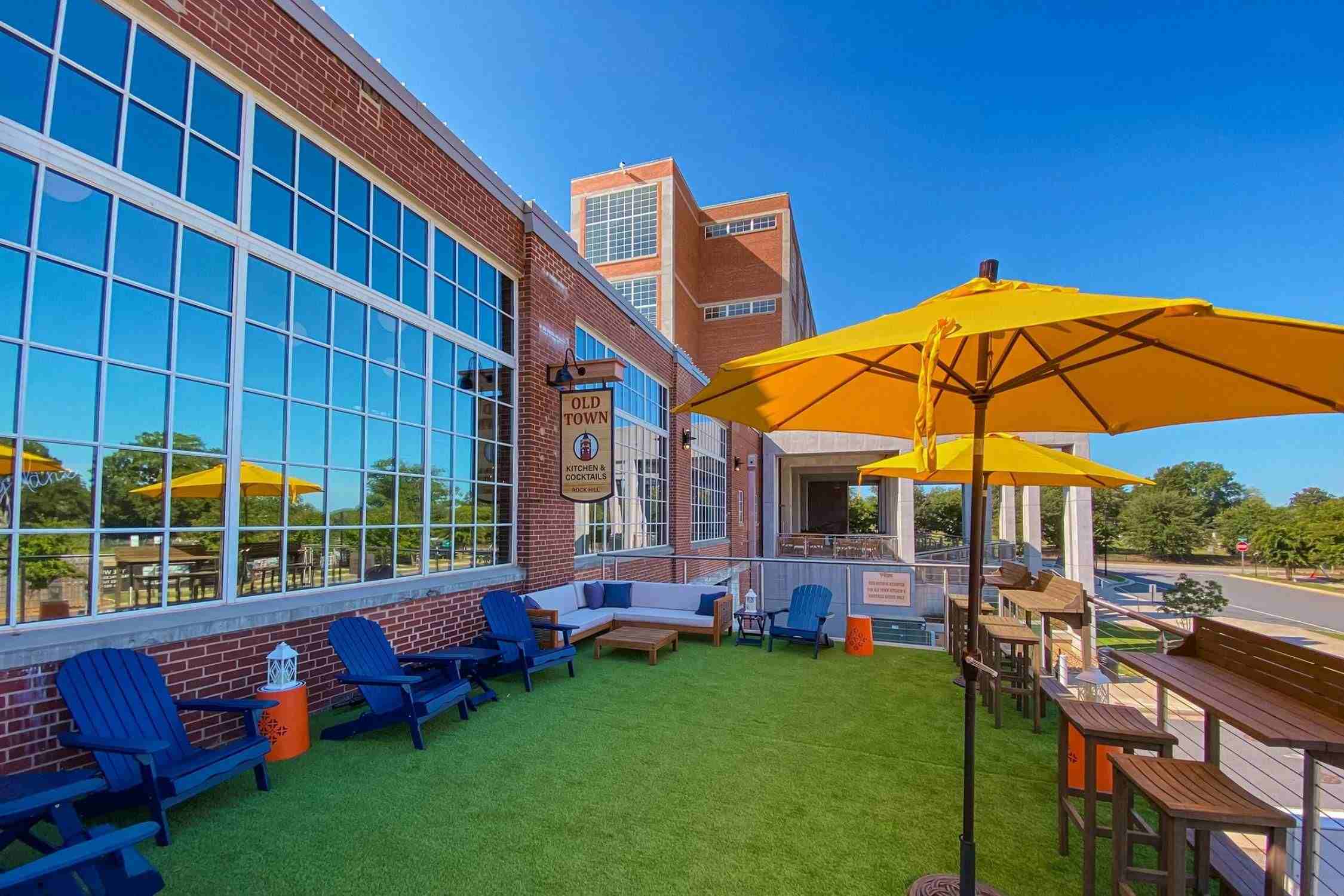 Old Town is new to the neighborhood and serves as a celebration of local nostalgia. The food and drinks all come carefully crafted here. Sip some sweet tea on the front porch for a real Southern experience.
The menu is seasonal and locally sourced. Classic cocktails with a modern twist, a wide range of taps of regional beers, and fine wines offer all the makings for a fun evening out in Rock Hill.
You can enjoy traditional Meat Plus Two plates, as well as vegan and gluten-free options. The space is super cozy with bookshelves, plenty of plant life, and dark painted walls.
---
Sila Thai
This down-to-earth dining spot features all the traditional Thai dishes that we know and love. The atmosphere is super calming and the extensive array of options guarantees something for everyone. Stir fry, noodles, and curries are all tasty to try.
Pick your own protein for an affordable lunch special or go for an enticing entree like the Duck Avocado or Tom Yum Fried Rice. Be careful with your order if you don't like a lot of spice and any meat-free eaters will have plenty to pick from.
---
Nishie G's Cafe
Nishie G's is all about homemade Greek cuisine with a Southern flair. It's the fusion food you didn't even know you were craving! They cook up family recipes that have been passed down for generations. Go for any meal of the day and you'll find fresh fare to fill you up.
The Pita Sandwiches and Platters are our usuals, especially the Marinated Beef Tips. It's an affordable spot that also provides basic comfort food bites like hamburgers and hot dogs.
---
Pier 51
Pier 51 is the place to be for all the fresh seafood Rock Hill has to offer. Catches come straight from the sea and are served alongside selections of hand cut steaks and handmade pasta as well.
Market price Crab Leg clusters make for a delightful starter for an affordable feast full of everything from flounder to shrimp. It's an easy going, down-home atmosphere, famous for an old school classic, the salad bar, which is refreshed all day long.
---
Kounter
Kounter is where all the Instagrammers want to go, and the food is just as good as it looks. Interactive and inspired plates are the claim to fame here, making for a unique experience unlike anywhere else. The vibe is modern and minimal.
You'll find plenty of plates for sharing a light bite, like Chicken and Waffle Sushi, as well as mouthwatering mains for both lunch and dinner. Lobster Gnocchi and the Bacon Wrapped Meatloaf are a couple of their super impressive culinary creations, and even better when paired with a craft beer or cocktail.
---
Spice Asian Kitchen
Spice Asian Kitchen is set just outside of Rock Hill and is home to Thai, Korean, and fusion fare. Seasonal ingredients are sourced locally and cooked to incorporate all the enticing exotic flavors. The rooftop offers unobstructed views looking out over the scenic region. Inside it's a spacious and trendy environment for an all round enjoyable experience.
It's a great place to head for happy hour as well. From poke bowls to bibimbap, there's something for everyone here. Green Curry Mussels, Sashimi Tuna Nachos, and Szechuan Scallops are a few of the stand out seafood concoctions.
---
Luigi and Sons Italian Restaurant
This old fashioned bar and restaurant is a family owned staple of the foodie scene in Rock Hill. Heaped portions of handmade pasta will have anyone drooling as soon as the delightful dishes arrive at the table. The red and white checkered floors add a kitschy feel to the dated space.
The menu features chicken, eggplant, veal, seafood, and house special sections. The Cavatelli Di Casa is a coveted main off this menu full of classic cuisine. There are also gourmet pizza pies to try, and you can even create your own.
---
Eggs Up Grill
This relaxed chain is a must for the most important meal of the day in Rock Hill. It has a charming and colorful atmosphere that makes everyone feel right at home. Signature omelets, brunch bowls, griddle creations, breakfast sandwiches, and more are featured on this extensive menu.
There are gluten-free and vegetarian choices, plus many plates feature that coveted Southern twist. The Homestead Platter and the Founders Hash and Eggs are craveable diner classics that are sure to delight any diner.
---
Taylor's Soul Food
The Loaded Baked Potatoes are the coveted classic at Taylor's, and a great reason to go here all on their own. They've got the best soul food around, and it feels like the last hidden gem of the city. Everything is seasoned to perfection and packed with Southern flavors.
There are dinner plates, fish plates, chicken wings, and a wide range of sides that all seem to really make the meal, such as Collard Greens and Mac and Cheese.
---
Island Grill and Pub
For traditional Caribbean cuisine bursting with authentic flavor, Island Grill and Pub is the best place to be. Rice and Peas, Jerk Chicken, Curry Goat, Oxtails, and Peppered Steak, and more can be found at this fun family owned joint.
It's a casual dining ambiance with a colorful decor that feels super festive and delightfully relaxed. There are even vegetarian options to enjoy, like the Jerk Tofu and Curry Chickpeas. The Rum Punch makes a refreshing addition to any meal here.
---
Sakura Japanese Steakhouse and Sushi
Sakura is a hibachi-style set up and everything being cooked tableside by a personal chef certainly makes for an eventful experience. Sushi wise there's raw and cooked maki style, specialty rolls, nigiri, sashimi, and hand rolls ranging from creative to classic combinations.
Plus if you get a bento box it will come in that large wooden boat that always looks good up on the Insta-feed. There's really every kind of protein to try from tofu to steak to seafood. The sake cocktails are always a joy to drink here as well. We always love to get a couple of the Green Geishas.
---
Sonny's Dutch Mill
For classic American eats in Rock Hill, we often head to the superb Sonny's Dutch Mill. They boast the self proclaimed best Chili Cheeseburger around, and we really must agree. It began way back in the day as a car hop restaurant in Rock Hill and drive in movie theater. Today it maintains the same retro reputation for good times and great food.
Wooden booths, checkered floors, and walls adorned with framed black and white photos give the space its charming old school feel. Do yourself a favor and snag a milkshake to enjoy with whatever your order may be if you dine in or carry out.
---
Best Restaurants In Rock Hill, SC Map