*cover image courtesy of Visit York County
Welcome to Fort Mill, a charming small city nestled on the border of North and South Carolina. With its rich history rooted in the textile industry of yesteryears, Fort Mill has transformed itself into a diverse hub of industries.
From manufacturing to retail, finance to technology, this town has embraced modernity while preserving its quaint allure. If you happen to find yourself in this delightful area, there's no shortage of fascinating activities and attractions to explore. Get ready to discover the hidden gems of Fort Mill!
---
Best Things To Do In Fort Mill, SC
---
1. Downtown Fort Mill
Located just south of the city of Charlotte in North Carolina, lies the historic all-American town of Fort Mill. Once home to the Catawba Indians, this picturesque town has a long and rich history that can be sensed as soon as you arrive at its downtown district.
The 19th-century buildings that line Main Street house some of Fort Mill's finest restaurants, breweries, quaint antique stores, and novelty shops.
Visitors can begin their exploration of Fort Mill by walking along downtown Fort Mill, exploring its many boutique shops, cafes, restaurants, and southern-country vibes. 
---
2. Grab A Nice Cold Beer At Hobo's
Hobo's is a popular dining option for both locals and visitors that come to Fort Mill. The restaurant features a pet-friendly outdoor patio, where you can enjoy ice-cold Carolina brews coupled with mouth-watering build-your-own burgers. Hobo's is located on Main Street, close to the railroad line, and offers a railway-style ambiance to match Fort Mill's historic routes.
You will find the interior and exterior of Hobo's to be full of railroad-inspired decor such as foot rails made from actual rail tracks and plenty of artwork. The restaurant also hosts live music events on weekends which adds to the fun of dining here.
---
3. Enjoy Southern-Style BBQ At The Improper Pig
If you are in the mood for something other than burgers and beer, how does an authentic southern-style BBQ sound to your meat-craving taste buds? Also located on Main Street, The Improper Pig is just a few buildings away from Hobo's and is housed in what used to be the former Majestic Theatre on Main Street.
Despite the wacky name, the Improper Pig is a fine dining establishment that offers upscale versions of local barbecue favorites such as the always popular South Carolina pulled pork, scrumptious St. Louis-style ribs, and locally-sourced beef briskets and pork rolls that are paired with homemade sauces that you just don't get anywhere else!
---
4. Visit The Local Amor Artis Brewery
No visit to an all-American southern town can be complete without a tour of at least one of its local breweries. Luckily, you won't have to go far to find one as the Amor Artis Brewery is also located on Main Street and owned and run by two brothers that have a love and passion for brewing premium-tasting beer.
The best part about Artis Brewery is that it is kid-friendly and features a double-deck patio and a welcoming bar where you can enjoy the latest brews on tap while your kids are busy with the toys provided on-site. A food truck out back also offers bar food if you are feeling hungry. Beer lovers will also want to check out Lake Willey Brewery to enjoy the full range of Fort Mill's local brews.
---
5. Spice It Up At The Puckerbutt Pepper Company
If you are a fan of spices, then a visit to the Puckerbutt Pepper Company has to be on the top of your list of things to do in Fort Mill. The brainchild of Ed Currie, or "Smokin Ed" as he is popularly called, the Puckerbutt Pepper Company is also located on Main Street and is famous for selling a variety of hot sauces with names like the Reaper Squeezins, The Gator, and I Dare You Stupit.
These sauces and many more contain just a pinch of the company's most-prized and famous chili – The Carolina Reaper. The Carolina Reaper was named the world's hottest chili by the Guinness Book of World Records, in 2017, and is locally grown right here in Fort Mill.
---
6. Enjoy The Strawberry Festival At Walter Y. Elisha Park
The Walter Elisha Walking Park is a great place to relax and have a picnic after a day out shopping and exploring downtown Fort Mill.
This 12-acre park features a half-mile walking trail that is perfect for a morning or evening run as well as a playground and plenty of open green space for kids to enjoy. In the month of May and/or April, Walter Y. Elisha Walking Park also holds the widely popular South Carolina Strawberry Festival which brings in plenty of visitors from far and wide.
During the festival, the park is full of vendors, food stalls, and live shows that keep people of all ages thoroughly entertained.
---
7. Explore The Greenway Walking Trails
Hiking, biking, and nature enthusiasts that come to Fort Mill get access to the famous Carolina Thread Trail. This nature trail is made up of a regional network of trails that connect 15 different counties in the Carolinas. Visitors can find sections of the trail in places like the Anne Springs Close Greenway, Baxter Village, and along the Catawba River.
In Fort Mill alone, hiking and mountain biking enthusiasts can take advantage of over 40 miles of rugged trails that offer stunning countryside views and wind through dense hardwood forests, picturesque prairies, old deserted log cabins, and alongside lake and river banks. 
---
8. Indulge In Art & History At Fort Mill History Museum
Samuel E. White Gallery, at the Fort Mill History Museum, is a must-visit for all who travel to this historic town. The gallery houses artwork created by local artists that date as far back as the 1600s and offers plenty of other exhibits and displays showcasing some of the most important artifacts and people that helped shape the town's history.

The Museum is located just off Main Street in a beautiful Victorian home that was built in the mid-19th century. The museum also features a gift shop and a library and offers free admission.
---
9. Enjoy Recreational Activities & More At The Anne Springs Close Greenway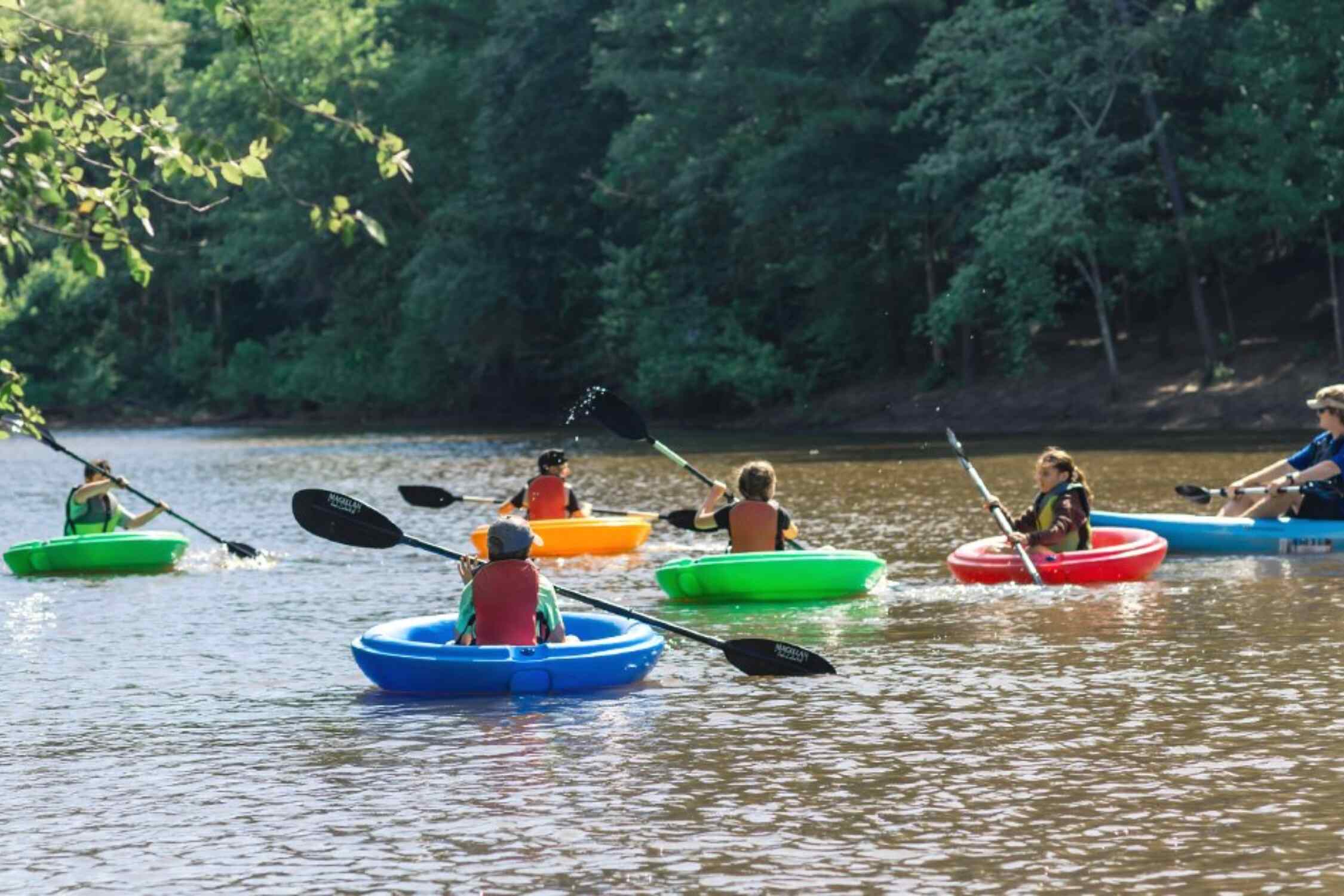 The highlight of Fort Mill, especially for nature lovers, is the Anne Springs Close Greenway. Spanning across 2,1000 acres of pristine wilderness this place offers a ton of recreational activities such as hiking, mountain biking, horseback riding, kayaking, picnics, wildlife watching, fishing, paddleboarding, and much more for the outdoor enthusiast.
The preserve also features the Greenway Gateway visitor center where you can find all the information you need about the park and also grab a bite at the Gateway Canteen to fuel up before the exploring begins.
Visitors can also take advantage of guided trail rides, and van tours. The preserve also hosts annual festivities and events like the Fiddle 'n Pig Shindig BBQ & Bluegrass Festival.
---
10. Spend The Day At Carowinds Theme Park
One of Fort Mill's top attractions is Carowinds, a theme park located close to Charlotte in the north, and on the border of North and South Carolina. Carowinds is a popular family destination and promises a day filled with fun-filled activities and plenty of entertainment.
The amusement park hosts over 60-world class rides such as the Nighthawk, Vortex, Intimidator, and Camp Snoopy which is a peanuts-themed area for children with plenty of character-themed attractions and rides.
You will find stalls that offer food and drinks all around the park, including the best funnel cakes you can get in Carolina. Carowinds also changes themes throughout the year so you can always find something new and exciting to see and do.
---
11. Dinner & Drama At NarroWay Productions
Being an old southern town, it is no surprise that Fort Mill is home to one of the handfuls of remaining Christian theater companies in the world. If you are seeking something unique and different to do, NarroWay Productions is a hidden gem that offers year-round original Broadway-style Christian-focused dinner shows that include musicals, children's shows, and the occasional mystery theater.
You can enjoy a delicious dinner here while watching live drama stories unfold that are entertaining and inspiring for people of all ages.
---
12. The Catawba River Walk
The Catawba River Walk is a paved hiking trail that runs alongside the Catawba River offering scenic views of South Carolina's countryside. The Catawba River lies just south of Fort Mill and is a popular spot for hiking, biking, and walking, as well as, a great place to enjoy a romantic and relaxing picnic.
Visitors can also partake in water-based activities such as kayaking or tubing on the river or enjoy a meal at the popular Pump House restaurant.
---
13. Go Boating At Lake Wylie
This artificially created lake is one of the oldest man-made reservoirs in Carolina and a great place to enjoy plenty of water-based activities.
There are two public swimming areas and beaches at the lake, one at Ebenezer Park and the other at Windjammer Park. Both parks feature plenty of facilities and amenities including a campsite, children's playground, picnic shelters, and boat ramps that allow access to over 13,000 acres of surface water.
Visitors can enjoy tubing on the back of a boat, riding on the pontoon boat with a bunch of friends, or jet skiing along the lake's shoreline.
---
14. Baxter Village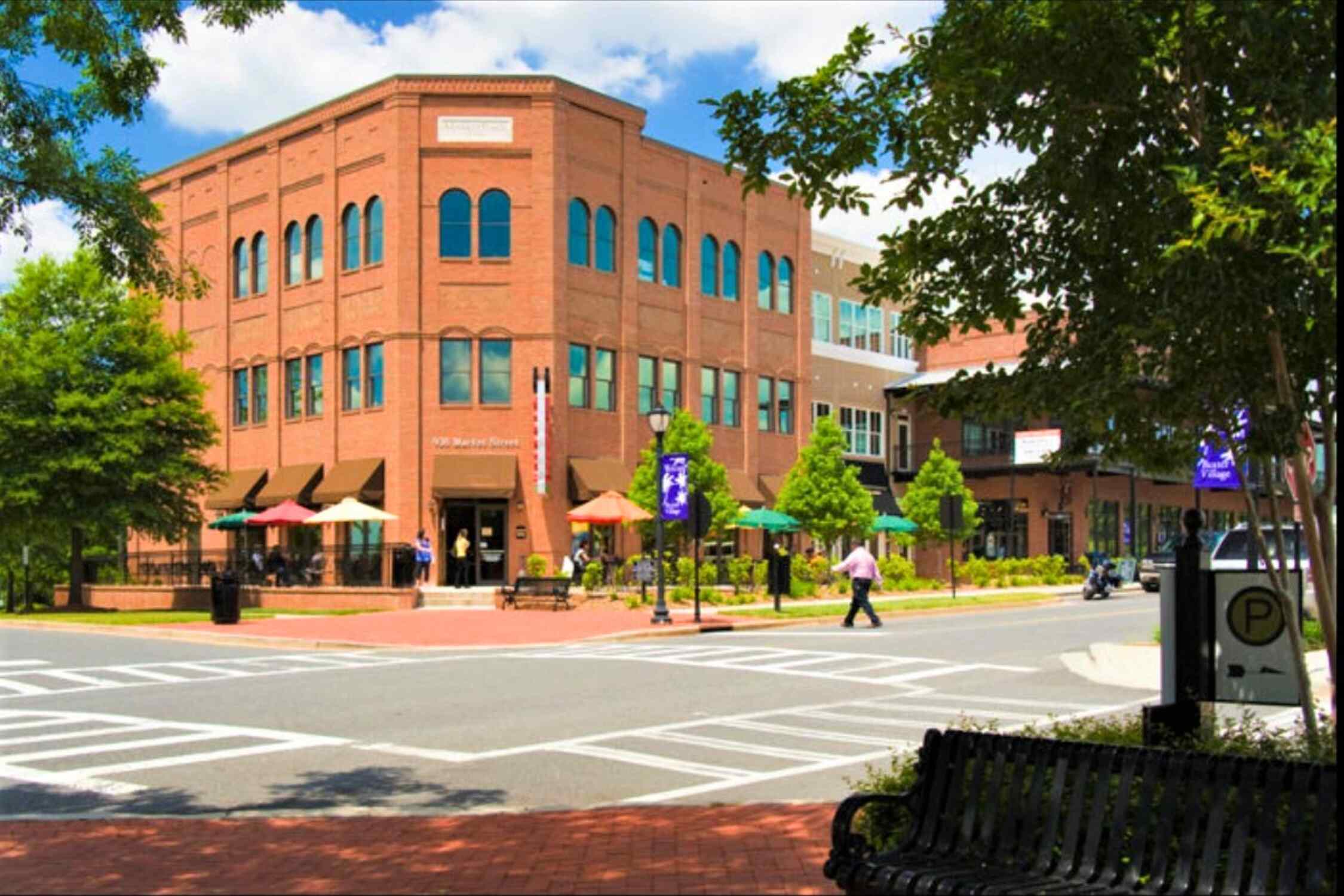 Baxter Village is one of the premier neighborhoods in Fort Mill, which is an especially popular place to live for families. The upcountry architecture features homes with big front porches and being just off the I77 it offers easy access to both Charlotte in the north and Rock Hill in the south.
Apart from being one of the best neighborhoods to live in, Baxter Village also offers plenty of things to do with access to recreational activities at both Lake Wylie and the Catawba River.
---
15. Enjoy A Round of Golf At Fort Mill Golf Club
No trip to any town, city, or suburb is complete without enjoying a round of golf at the local golf course. At Fort Mill, golfers can rejoice as they have a choice of three golf courses to choose from. At the top of the line is the Fort Mill Golf Club, which is an 18-hole championship golf course that was designed by the legendary Donald Ross.
If you want something a little more low-key, the Springfield Golf Club and Tega Cay Golf Club are both excellent courses to spend the day enjoying scenic views while playing golf with friends and family.
---
16. Buy Wholesome Delights At Springs Farm Market
Craving local fresh produce straight from the farm? Stop by Springs Farm Market to stock up on a variety of vegetables, fruits, and farm-fresh bread. The market is often stocked with freshly picked strawberries, peaches, blackberries, and an assortment of garden produce.
There is also a strawberry field out back for those that prefer to pick their own berries! From April to August, the market also sells the best soft-serve ice cream in four amazing local flavors, as well as, an assortment of bakery items.
---
17. Learn Pottery At Olive's Mud Puddle
Looking for something to do that is educational and rewarding. Pay a visit to Olive's Mud Puddle for a chance to learn how to make hand-crafted pottery with the help of local artist and owner Debbie Whitsett. Apart from learning pottery Olive's Mud Puddle is also a coffee shop and studio/gallery, located in the heart of downtown Fort Mill.
The shop also frequently has exhibits of pottery work done by local artists that make for amazing souvenirs to remember your trip.
---
18. Hike The Lake Haigler Loop Trail
One of the best things to do in Fort Mill for those looking to get outside is hike the Lake Haigler Loop Trail. Fort Mill has plenty of nature trails to explore but few are as scenic as the Lake Haigler loop trail. The trail begins at the Anne Springs Close Gateway and loops around Lake Haigler for a total distance of 5.3 km.
For the average hiker, the trail will take about an hour to complete and there is plenty you can do along the way including fishing, birding, and biking. The trail is open year-round and is a picturesque place to visit no matter what time of year it may be.
---
19. Upper Room Chapel
Another unique attraction in Fort Mill is the Upper Room Chapel which is a replica of Jerusalem's famous Upper Room or Cenacle which was the room in which the Biblical Last Supper took place. While a replica, the attention to detail is unparalleled as the entire room is built to the exact specifications as the original.
If you are looking to connect to your religious and spiritual side the Upper Room Chapel welcomes anyone looking for a place for prayer. On the property, you will also find Walk of Faith – a wooden pathway that is lined with inlaid scriptures that are inscribed on red granite markers.